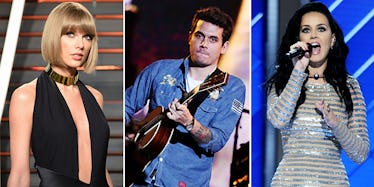 Taylor Swift And Katy Perry Partied Together With Their Ex-Boyfriend John Mayer
REX/Shutterstock
UHHHHHH, we've gotta talk about this little weird-ass love triangle going on.
Apparently, Taylor Swift, Katy Perry AND John Mayer all partied together. Nope, I am not OK.
The stars reunited for Drake's 30th birthday party this past Sunday and were all together under one roof.
NOPE, I AM NOT OK.
Just to remind you, Taylor Swift dated John Mayer back in 2010 for a very brief time. She released the song "Dear John" about their relationship and totally threw shade at him in the lyrics:
Dear John, I see it all now that you're gone. Don't you think I was too young To be messed with? The girl in the dress Cried the whole way home, I should've known.
OUCHHH, that's gotta hurt.
Then in 2012, John Mayer started dating Katy Perry, AKA TAYLOR SWIFT'S EX-BFF. The two had a falling out a few years prior, and things have been super awkward and dramatic ever since.
Last year, Katy and John broke up for good, so that was fun while it lasted. Now it seems like the only thing Katy and Taylor have in common is their history with John.
"DEARRRRRR JOHNNNNNNNNNNNN." It is a really great song, though.
AIGHT, now let's get back to the fact these three partied together all weekend.
OK, maybe that's a little bit of an exaggeration. They probably weren't buddy-buddy the entire time... but they were in the same place!
I AM STILL NOT OK, AND TWITTER ISN'T EITHER.
Did anyone go to the hospital? WAS ANYBODY HURT?
WAS DRAKE'S BIRTHDAY PARTY RUINED?!
It just doesn't make sense.
Surprisingly, it sounds like things ran pretty smoothly that evening -- no broken bones, broken hearts or "Bad Blood" here.
Now, how about you all collaborate on an album? No? Too much? Too far?
OK, I'll escort myself out.
Citations: Taylor Swift, John Mayer And Katy Perry (TMZ)