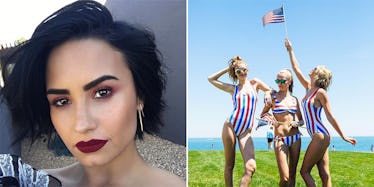 Demi Lovato Body-Shamed Taylor Swift's Squad And Fans Are Furious
Instagram
Shots FIRREEEDDDDDDDDDDD.
Demi Lovato had a lot to say about Taylor Swift the other day, and the girl was NOT holding back.
During an interview with Glamour, the "Confident" singer slammed Tay and her squad for setting unrealistic body standards.
While referring to Taylor Swift and her friends (including Gigi Hadid, Karlie Kloss and Cara Delevingne), Demi said,
This will probably get me in trouble, but I don't see anybody in any sort of squad that has a normal body. It's kind of this false image of what people should look like.
Ohhhhh shit. That's rough, but it doesn't stop there!
The singer also called out Taylor and the ladies for starring in a music video (*COUGH "BAD BLOOD" COUGH*) about a squad taking down a female enemy.
She shared,
I think that having a song and a video about tearing Katy Perry down, that's not women's empowerment.
Mic drop. Demi and Taylor have had beef for years now, but it sounds like Demi can't let it go.
Taylor has also been off the radar lately due to the drama surrounding her breakup with Tom Hiddleston and fight with Kim K, so Demi's comments seem to come out of nowhere.
As expected, Taylor's fans were not happy with the interview.
Earlier in the week, Demi called out a fan's artwork for depicting a distorted version of her body.
Demi commented on the photo,
Is that how my boobs shoud look? It's gorgeous but that's not my body
Taking that into consideration (and knowing Demi is such a strong activist for body positivity), it makes people believe her body-shaming comments about Taylor's squad are hypocritical.
Tuesday morning, Demi went to social media to defend herself. According to her tweets, the singer doesn't take back what she said.
Well, I guess Demi and Taylor have problems... and I don't think they can solve themmmmmmmm!!!
Haha, see what I did there?
Sorry.
Citations: Demi Lovato Slams Taylor Swift (Refinery29)