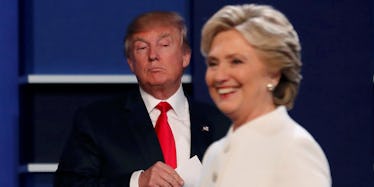 Trump's 'Nasty Woman' Insult Became The Ultimate Girl Power Mantra Overnight
REUTERS
It wasn't the comment that sealed Donald Trump's fate. (Let's face it, there are already plenty to choose from.)
But out of all of the wild accusations and cruel words that came out of his mouth last night, this phrase seemed to resonate the most.
But unfortunately for Trump, calling Hillary Clinton a "nasty woman" during the third presidential debate completely backfired. In fact, it's become a symbol of girl power.
He made the comments while Clinton was talking about social security. Yep, he interrupted her again. It went something like this. Clinton was saying,
That's part of my commitment to raise taxes on the wealthy. My social security payroll contribution will go up, as will Donald's assuming he can't figure out how to get out of it --
Trump then shakes his head, butts in and comments,
Such a nasty woman.
Clinton's jibe alluded to reports Trump may have found a loophole back in the '90s that meant he could avoid paying taxes for two decades.
So what is a "nasty woman?" Well, the nasty women of Twitter united to explain last night.
A nasty woman is every woman who has changed the world.
It's an exclusive club with special guests that include Trump's "bad hombres."
It's every quality our next president should have.
She is supportive of immigrants.
Nasty woman is this year's hottest Halloween costume.
She's everything this country needs and wants, and my god, we hope there's merchandise.
Trump's ill-prepared comment went hand-in-hand with his remark on "bad hombres." He used the racist expression while debating (if you can call it that) the topic of immigration.
He said,
We have some bad, bad people in this country that have to go out. We're going to get them out, we're going to secure the border. Once the border is secured, we'll make a determination as to the rest. But we have some bad hombres here and we're going to get them out.
Obviously, Clinton responded with that trademark chuckle we'd like to see again on Election Day.