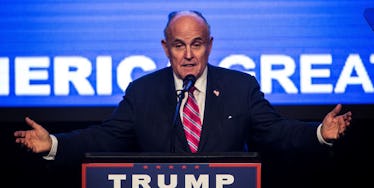 Rudy Giuliani Says 'Genius' Trump Is Better For United States Than A Woman
REX/Shutterstock
Rudy Giuliani said something completely irrelevant and stupid during an interview with ABC News.
While responding to claims Donald Trump could have technically avoided paying tax for the last two decades, the former NYC mayor said Trump is an "economic genius" and that makes him a better fit to run the country than a woman.
His exact words were,
Don't you think a man who has this kind of economic genius is a lot better for the United States than a woman? And the only thing that she's ever produced is a lot of work for the FBI.
Explaining his defense for Trump, he said,
My response is he's a genius. Absolute genius. [...] This is a perfectly legal application of the tax code, and he would have been a fool not to take advantage of it. Not only that he would have probably breached his fiduciary duty to his investors, to his business. You have an obligation when you run a business to maximize the profits. And if there is a tax law that says, "I can deduct this," you deduct it. If you fail to deduct it, people can sue you.
His comments come just days after he said Hillary Clinton was "too stupid" to run as president.
The hashtag "Last Time Trump Paid Taxes" has blown up on Twitter after The New York Times got hold of his tax records.
They revealed the presidential candidate declared nearly a $916 million loss on his 1995 income tax returns.
The tax deduction is so large and in charge it means Trump could have played the system like a fiddle and legally avoided paying any federal income taxes for up nearly two decades.
The newspaper reports this huge loss came from business blunders in the Trump empire around the early '90s, including the purchase of the Plaza Hotel in Manhattan and mismanagement of his Atlantic City casinos.
Joel Rosenfeld, an assistant professor at New York University's Schack Institute of Real Estate, told The New York Times Trump "has a vast benefit from his destruction."
The Trump campaign released a statement attacking the newspaper and reaffirming its defense the presidential hopeful is a business genius.
Elite Daily and 50 other media organizations partnered with Rock The Vote to register 100,000 women to vote. You can register right here (and men can use it too) :