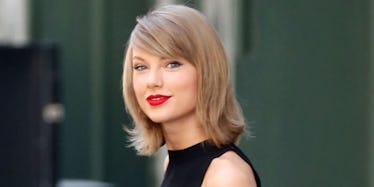 Taylor Swift Has The Most Maniacal Smile Following Hiddleston Breakup
REX/Shutterstock
Shortly following the termination of her "relationship" with actor Tom Hiddleston, the one and only Taylor Swift was all smiles as she practically waltzed around New York City after Labor Day.
The 26-year-old singer was seen in good spirits despite the couple's breakup after three months together -- and the look on her face is PRICELESS.
She looks SO happy...
A little too happy.
It's actually kind of weird.
Taylor almost looks relieved in a sense.
If I'm Tom Hiddleston, I'm wondering where the f*ck I went wrong to deserve ZERO remorse from superstar Swift.
According to Daily Mail, 35-year-old Tom Hiddleston and Taylor Swift split after Swift suspected Hiddleston of having an ulterior motive as to why he was with her.
The report states that Taylor didn't appreciate Tom's "love of the limelight."
Hiddleston had reportedly asked Swift to join him on the red carpet at the upcoming Emmy Awards this month.
Taylor, who just couldn't fathom WHY on Earth her boyfriend would ask her to join him on the red carpet, broke up with him instead...
You know, just in case he was trying to use her for all of the fame and glory that comes with being romantically linked to T-Swift.
An inside source revealed,
Tom wants their relationship to be public, even asking Taylor to go to the Emmys with him, but Taylor wants to keep her private life private.
Private?! Well, we're going to need a good explanation for THIS if that's the case.
I don't know about you but that "I <3 T.S." tank top looks pretty damn public to me.
Regardless, it makes sense as to why Taylor would be a little skeptical about Tom's motive behind dating her.
After all, Swift has NEVER walked the red carpet with a boyfriend of hers before -- ever.
For Tom to suggest such a stunt just three measly months into their relationship, you have to wonder -- could he just be trying to promote himself?
Apparently, T-Swift is wondering the same thing. Instead of assuming that he actually is, however, she just dumped him and started smiling profusely in public instead.
Way to go, T.
As for Tom, he's been busy hanging out with Chris Hemsworth and Idris Elba. Not to mention, he just won an award for Best Actor at the TV Choice Awards.
In other words, he can't be hurting too bad... As a matter of fact, I'd imagine he's grinning just as hard as his ex is!
Could they be following Jennifer Lopez and Marc Anthony's ex-relationship model of keeping things on good terms? Maybe, maybe not.
Citations: The smile that says I'm single! Taylor Swift struts around after dumping Tom Hiddleston over 'arm candy' Emmys invite (Daily Mail)