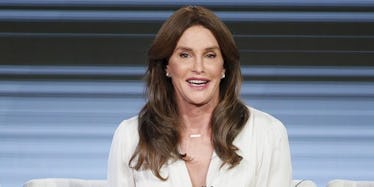 Caitlyn Jenner Opens Up About Getting Sex Reassignment Surgery In New Memoir
REUTERS
It sounds like Caitlyn Jenner has already taken the major step in her transition.
In her new memoir, the reality star reportedly reveals she underwent sex reassignment surgery months ago, meaning she now has female genitalia.
Caitlyn speaks about the decision behind the surgery in her upcoming memoir, which RadarOnline claims to have an advanced copy of.
Apparently, Caitlyn underwent the reassignment surgery in January, and she is finally revealing it in order to get people to stop asking her what's in her pants. She writes,
The surgery was a success, and I feel not only wonderful but liberated... I am telling you because I believe in candor. So all of you can stop staring. You want to know, so now you know. Which is why this is the first time, and the last time, I will ever speak of it.
The surgery would have occurred nearly two years after Caitlyn publicly came out as a trans woman in a 2015 interview with Diane Sawyer. Later that year, Caitlyn underwent cosmetic surgeries on her face and breast augmentation, but opted not to undergo full sexual reassignment at that time.
She admits it was a difficult decision due to the possible complications of the invasive surgery, but says she finally went through with it recently after finding no real use for her penis anymore and a desire to have "all the right parts."
So why even consider it? Because it's just a penis. It has no special gifts or use for me other than what I have said before, the ability to take a whiz in the woods. I just want to have all the right parts. I am also tired of tucking the damn thing in all the time.
The full story behind Caitlyn Jenner's high-profile transition from a biological man to a biological woman will be in her memoir, "The Secrets of My Life," which is out on April 25.
Citations: Caitlyn Jenner's BIG Book Reveal: I've Had The FINAL Surgery — Bye, Bye Penis! (RadarOnline)