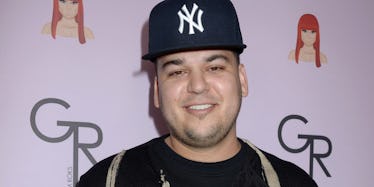 People Are Pissed At Rob Kardashian For These Socks He Made For Kids
REX/Shutterstock
Poor Rob Kardashian.
Day one as a new dad, and he's already messing everything up.
Well, something people think he is, anyhow.
The 29-year-old reality star faced criticism for a design in his Arthur George sock line.
Rob posted a picture of the new socks on his Instagram, which have the words "THUG LIFE" printed on the soles, the day before Blac Chyna gave birth to his newborn daughter.
Rob promised that soon his baby girl Dream Kardashian would be wearing these "Thug Life" socks.
He wrote in the caption,
@arthurgeorge87 kids and baby socks, coming 2017!! You know our baby girl is going to be rocking these!!
However, not all of Rob's followers were on board with infants and children declaring themselves "thugs" via their foot cloths.
Others were upset that Rob, a white reality star, was making money with the phrase "thug life," the name of the hip-hop group consisting of black rappers Tupac Shakur, Big Syke, Stretch, Mopreme Shakur, The Rated R and Macadoshis.
On commenter wrote,
I hope the Tupac Estate sue you, 'cause u don't have the rights to Thug Life @robkardashian
Another wrote,
Thug life???you are no thug! And why would anyone dress their child in a pair of socks that says something like that??? I mean why would you want to teach your child it's ok to be a thug? Seriously what is wrong with you?!
And another wrote,
This is disgusting. You don't know what struggle is, and you are appropriating a culture you will never be a part of. You should quit with this anti-black sentiment, things aren't looking good for you since you called that man the N-word.
Still, others seem to feel the socks weren't a big deal.
Honestly, Rob might have other things to worry about now than his controversial sock line, like that fact that he is now responsible for a tiny human being.
At least little Dream's feet will never be cold.
Citations: Rob Kardashian Faces Kriticism for 'Thug Life' Baby Socks From Arthur George Line (Us Weekly)