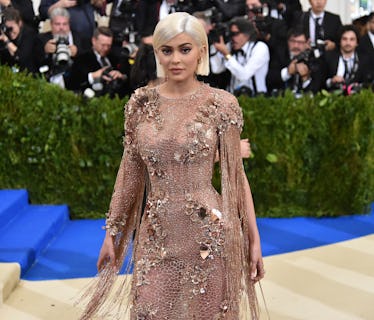 Kylie Jenner's Staggering Net Worth Will Leave You Shook
Mike Coppola/Getty Images Entertainment/Getty Images
There are A LOT of great things you could say about Kylie Jenner. However, there are also people who throw a lot of shade at the starlet. No matter what side of fence you stand on, there's no denying she's built an empire. I think Kylie Jenner is the youngest person I would ever call a mogul. What is Kylie Jenner's net worth? You may need to sit down. I can tell you for sure it's definitely more than I was expecting.
To wrap your head around the amount of money the 20-year-old reality star is worth, here's a short list of her endeavors: Kylie Cosmetics, Kendall + Kylie clothing line, Puma sponsorship, Life of Kylie spin-off show, and The Kylie Shop. Needless to say, sis works.
Kylie Jenner's net worth sits at a hefty $50 million, according to TIME. Obviously, Kylie has learned how to make money as well as her siblings and mother, Kris Jenner. In fact, Kylie's hustle has landed her as the youngest person on Forbes' list of the 100 highest paid celebrities in the world. DO YOU KNOW HOW MANY PEOPLE ARE IN THE WORLD? Over 7 billion and Kylie is kween over us all.
Jenner was ranked in the 59th spot on Forbes' list, and was the youngest person to be named followed by Justin Bieber, who is a whopping four years older than the starlet. The bulk of Jenner's wealth comes from her makeup empire, Kylie Cosmetics. According to TIME, Jenner "made $41 million from June 1, 2016, through June 1, 2017." Understatement of a lifetime: Jenner had a big freaking year.
Jenner isn't the only person under 30 to rank on Forbes' coveted list. The ten youngest people are a pretty diverse group of musicians and athletes. Below are the ten youngest people to appear on Forbes' list, their ranking, and net worth:
Kylie Jenner ranked #59 — (age 19), $41 million
Justin Bieber ranked #13 — (age 23), $83.5 million
Jordan Spieth ranked #83 — (pro golfer, age 24), $34.5 million
Chance the Rapper ranked #95 — (age 24), $33 million
Neymar ranked #71 — (pro soccer player, age 25), $37 million
Damian Lillard ranked #64 — (pro basketball player, age 27), $38.4 million
Ed Sheeran also ranked #71 — (age 26), $37 million
Fletcher Cox ranked #93 — (pro football player, age 26), $33.4 million
The Weeknd ranked #6 — (age 27), $92 million
Andrew Luck ranked #37 — (pro football player, age 28), $50 million
If looking at the ages of these wildly successfully people has made you depressed, I apologize and feel the same. As for Jenner, she's definitely not slowing down any time soon.
Jenner's biggest cash cow, Kylie Cosmetics, is probably going to have another epic year. The mogul has dropped a lot of new products throughout the month of December.
On Dec. 5, she announced to the world that she was dropping a new line of lipsticks in 20 different shades. According to Jenner, the lipsticks are "highly pigmented and hydrating with a creamy satin finish."
Are you drooling over all the colors? SO MANY COLORS. Kylie Cosmetics promises "full pigmentation with just one swipe," which is amazing. The lipsticks will be available for purchase on Dec. 13 for $17 a pop.
That's not the only big launch dropping on Kylie Cosmetics Dec. 13. Jenner announced the news on Dec. 6 that she's also created a full line of concealers. I'LL TAKE ONE OF EVERYTHING. THANKS, KY. There are 30 shades of concealer available, from fair to deep dark.
According to Kylie Cosmetics, the formula is "lightweight and designed to give a flawless skin-line finish." I AM ABOUT IT. Kylie has teased that The Silver Series will have three products. So far, she's announced the lipsticks and concealers — I literally can't wait to see what's next.
Give it up for Kylie — she's young, rich, and has a good head on her shoulders. Can't wait to see what 2018 holds for her. Keep doing you, Ky.
Check out the entire Gen Why series and other videos on Facebook and the Bustle app across Apple TV, Roku, and Amazon Fire TV.