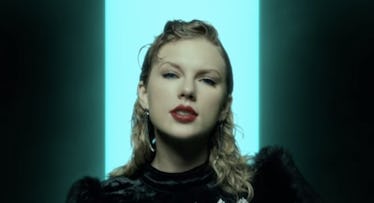 Which 'Reputation' Songs Are About Kanye West? Taylor Swift's Album Throws Shade
Big Machine Records
For the past two months Swifties worldwide have been counting the days until the release of Taylor Swift's sixth album, Reputation, and by "counting the days," I mean scouring the internet looking for clues about songs, secret details about the album, and any other Reputation-related info. Well, the day is here: Reputation is available for purchase everywhere and, now that we can officially listen to all fifteen of Tay's newest songs, people —of course— have questions about them, most notably: Which Reputation songs are about Kanye West?
It's common knowledge to anyone who knows their taystory that Queen Swifty and one Mr. Kanye Omari West have had quite the colorful past with one another. Indeed, since the birth of their tumultuous relationship in 2009 at the MTV VMAs, their on-again/off-again friendship (if you can call it that) has made headlines, kept fans hooked, and even inspired a few songs.
Of course, given the massive drama involving Taylor, Kanye, and Kim K. in the summer of 2016 (you know, the Snapchat story and launched Taylor's ~snake~ image), the ever-evolving narrative from which Taylor has asked to be excluded, and the fact that —more often than not— Taylor's songs are famously inspired by her real life experiences, it makes sense that at least a song or two on her new album would be about her turmoil with Kanye West.
Rumors that Taylor's Reputation era would diss Kanye West started before the album's first single was even released. Indeed, earlier this year in August Taylor wiped her social media accounts and uploaded three separate videos that come together to form a snake, famously the same thing she was called following last year's Snapchat drama with the Wests, so fans put two and two together pretty quickly.
Then came the album's lead single, "Look What You Made Me Do"; right away, the synth-pop song had fans speculating that its lyrics were aimed at Kanye, especially given certain, seemingly pointed lines like "I don't like your little games/ I don't like your tilted stage, / The role you made me play: of the fool/ No, I don't like you," and "The world moves on / Another day another drama, drama / But not for me, Not for me / All I think about is karma."
On top of that, the video for the lead single seems to subtly mock Kim and Kanye in various ways, and fans have recently likened Taylor's nude body suit in the "...Ready For It" video to the naked Taylor in Kanye's "Famous" video. Though these hints only slightly call out Taylor's conflicts, they're still enough to show that the singer and, more importantly, Reputation, hasn't forgotten about Kanye.
Now that the album is out in full, there are even more ~potential~ Kanye West disses lo keep an eye out for. The track list, which leaked online earlier this week, is said to be divided into two parts.
Part 1 (tracks 1-6) is the "media version" of Taylor, similar to her persona in "Blank Space":
1. "…Ready For It?"
2. "End Game" (feat. Ed Sheeran and Future)
3. "I Did Something Bad"
4. "Don't Blame Me"
5. "Delicate"
6. "Look What You Made Me Do"
And Part 2 (tracks 7-15) is the "real version" of Taylor:
7. "So It Goes…"
8. "Gorgeous"
9. "Getaway Car"
10. "King Of My Heart"
11. "Dancing With Our Hands Tied"
12. "Dress"
13. "This Is Why We Can't Have Nice Things"
14. "Call It What You Want"
15. "New Year's Day"
After listening to the whole album, there's some definite shade happening here. "I Did Something Bad" seems to have a lot of Kanye references. Swift sings,
I never trust a narcissist / But they love me / So I play 'em like a violin / And I make it look oh, so easy / 'Cause for every lie I tell them / They tell me three
Really, that whole song seems to be about her feud with the Wests.
"This Is Why We Can't Have Nice Things" is another shade-filled tune. A lot of fans think this one could be about Kim Kardashian, but since West is basically on the same team, it could be about him, too. It goes,
It was so nice being friends again / There I was giving you a second chance / But then you stabbed my back while shaking my hand / And therein lies the issue / Friends don't try to trick you / Get you on the phone and mind-twist you / And so I took an ax to a mended fence
Get you on the phone and mind-twist you? That definitely could be about the phone call Swift and West had about his lyric from "Famous," where he sang, "I feel like me and Taylor might still have sex. Why? I made that b*tch famous."
So far, it seems like these songs reference Kanye West in some way, but as is always the case with Taylor Swift songs, we may never know for sure.
Check out the entire Gen Why series and other videos on Facebook and the Bustle app across Apple TV, Roku, and Amazon Fire TV.