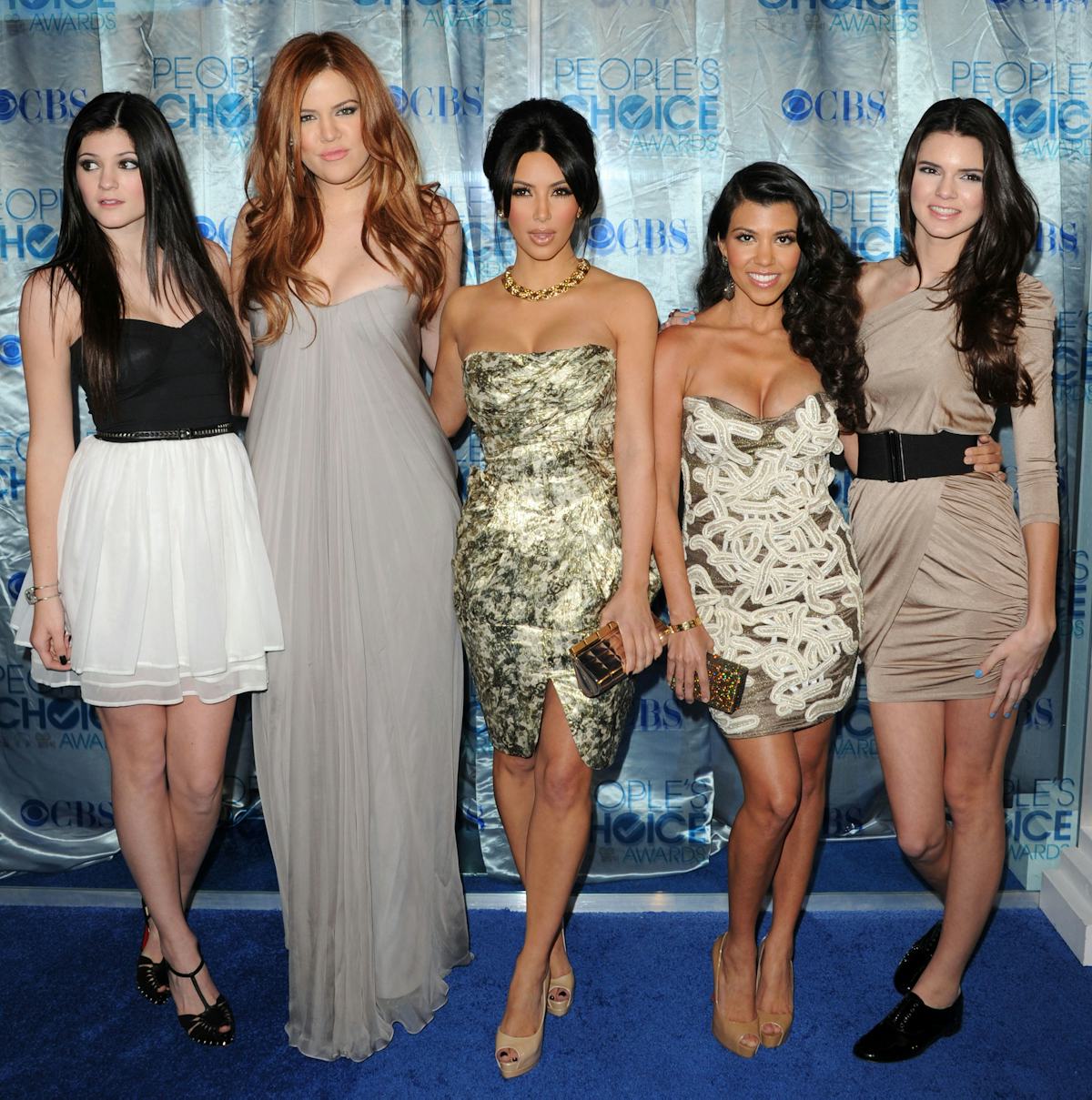 Here's What Every Kardashian & Jenner Looked Like In 2008 Vs. Now
Jason Merritt/TERM/Getty Images Entertainment/Getty Images
We all know just how glamorous the royal family is: and clearly I'm talking about the Kardashians. But there was a time where they weren't always so picture-perfect. A decade ago, they DEFINITELY didn't look the way they do now. And if you don't believe me, first of all, how dare you? But seriously, we have definitive proof that they couldn't look any more different than they do today. (God bless the internet, amirite?) In case you were wondering, here's what every Kardashian & Jenner looked like in 2008 versus now, because why would you NOT want to see each sister transform into the fantastic unicorn that they are today?
The answer is of COURSE you want to see all of their transformations. If you don't, who are you? Have you not watched every episode of Keeping Up With The Kardashians ever since it graced our television screens nearly a decade ago? If you don't identify with any one of the Kardashian sisters, I kindly ask that you see yourself out.
For those of you who kan't think of a world without the Kardashians, please kontinue on, because you won't be able to kontain your excitement looking at the flashbacks that we've prepared for you.
Kim Kardashian circa 2008:
That tracksuit. That intense smoky eye. The ever-popular duckface. Could Kim Kardashian be any more 2008 in this picture? Kim, who's now a fashion icon, definitely understands that her style has (thankfully) evolved into a simpler palette, and in an interview with Insider, Kardashian admits that "anywhere from 2007 to 2011, 2012" was when she made most of her fashion mistakes. She said,
I definitely have style regrets ... I mean, I wear some things and I'm just like, 'Why did I wear that?'"
Kind of thinking this outfit is on that list.
Kim Kardashian now:
Can someone say "total transformation?" The understated-yet-ridiculously- sexy blazer pantsuit. The platinum locks. The neutral makeup. FLAWLESS. Kim is a style queen who slays. 2008-Kim, see yourself out.
Khloé Kardashian circa 2008:
Oh, no. Khloé, 2008 took hold of you and refused to let go. Is it the silver pocketbook? The hoop earrings? The hair that's been flat-ironed to death? (Don't judge, we all did that last one.) I mean, sure, she looks cute, but c'mon, Khloé! You have so much potential!
Fortunately, Khloé's evolution is the things dreams are made of, and our girl is currently crushing life.
Khloé Kardashian now:
Oh, hello, you gorgeous vixen, you! Could she look any more perfect? Her honey-colored hair and her subtle smokey eye and. that. dress.
When Khloé went through a weight transformation, her style also evolved. In an interview with Harper's Bazaar, Khloé addressed how, unfortunately, the fashion industry's standards change when you lose weight. She said,
I definitely think the fashion industry, and people in general, look at me more now that I've lost weight ... Even on shoots, I would never have options for clothing. There would always be this attention on Kourtney and Kim, but I was too much work for [stylists] or they had nothing in my size. I wasn't even that crazy big!
Khloé, you're a freaking goddess, and we love you.
Kourtney Kardashian circa 2008:
What... what is going on here? Kourtney, I am going to say that you still look pretty slammin' but MAN can we tell that this photo is before 2010. Maybe it's the silk dress? Or is it the hand-on-the-hip pose?
I'm going to go with a hearty mixture of both.
Kourtney Kardashian now:
Trés chic. 10/10, highly recommend. Kourtney, you are killing it in those heels and the high-waisted pants. I'm not sure how you made a knit sweater work with leather, but you did and for that I am truly envious.
In an interview with Harper's Bazaar, Kourtney talked about how her style has changed now that she's a mom. She said,
My daily style is easy and effortless—I don't like to take too much time getting ready. Being a mom, I love to play with my kids and have fun with them, but I also love fashion. My mom and both of my grandmothers have always been into fashion, so it's been around us our whole lives.
All hail Kourtney.
Kylie and Kendall Jenner circa 2008:
There is truly nothing to say here other than the fact that the Jenner sisters look adorable AF. Considering they weren't even teenagers at this point, you can't really knock them for not looking straight off the runway. We're just going to go with the fact that they look actually average looking, and I can appreciate that.
Clearly, a few years have changed that notion because...
Kylie and Kendall Jenner now:
BOW DOWN TO THE QUEENS. Those gowns. Those top knots. Those kitten pumps. Kylie and Kendall, you have won 2017, and your style transformation from a decade ago proves it.
We still won't ever forget your shining moments as kids on KUWTK, though:
Rob Kardashian circa 2008:
Is it just me or do you sort of want to pinch 2008-Rob's cheeks but also date him? His smile says "adorable," but his wife beater says "I have two tickets to the gun show" and you know what? I am here for it.
Rob Kardashian now:
Rob definitely had a few rough years from 2008 to now, but I have to say, he's looking quite dapper as of late, so kudos to you, good sir. And this picture shows that not only is he feeling good but he's looking mighty fine.
He may be the only male sibling, but he's repping it hard. You do you, Rob.
Kris Jenner circa 2008:
There is absolutely nothing wrong with this picture. Kris Jenner is everything.
Kris Jenner now:
There is still nothing wrong with this picture. Kris Jenner is life, and don't you ever get it twisted.
I just want to thank all that Kardashian-Jenners that made this post possible. You are all magic.