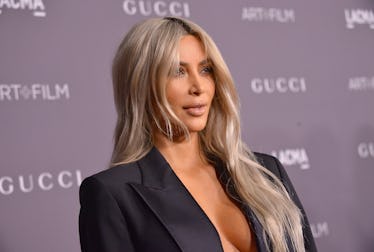 Kim K Went Topless To Promote Her Latest KKW Beauty Product & She Looks Gorgeous
Charley Gallay/Getty Images Entertainment/Getty Images
Kim Kardashian's KKW Beauty is killing the makeup game. Ever since her first launch of the crème contour kits, followed by the powder contour kits, and now the KKW fragrance line, Kim K is proving she knows her audience and is committed to providing them with easy-to-use products that will make them fee less intimidated about that #glamlife. She just announced her upcoming new products — highlighters and lip glosses — and Kim Kardashian's topless photo for the KKW Beauty line is a hard advertisement to ignore.
The new products are called Ultralight Beams Highlighters and Glosses, so shoutout to Kanye West for that name. (The first song on West's The Life of Pablo is called "Ultralight Beam," if you didn't know that. But how could you not know that at this point...) This will be the second set of highlighters from Kardashian West's beauty line and the first set of glosses. She previously collaborated with Kylie Cosmetics on a four-pack of crème lipsticks, but hasn't ventured solo into the lip department yet. Since Kylie Jenner pretty much dominates the lipstick market at the moment, lip gloss is probably a safe avenue for Kardashian West to venture into.
But enough about the products, f*cking look at her promotional photo for them:
Kimberly! This is everything. She looks like she's straight out of outer space in this photo, and honey, I am here for it. Don't even get me started on the lavender hair. It is a dream of mine that I am too scared to make come true, so I'm living vicariously through it/sobbing into my mirror. Kim K hasn't revealed any other details about the Ultralight Beams highlighters and glosses as of yet. All we know is that they will make us sparkly and go on sale Dec. 1 on KKWBeauty.com.
She also posted this trippy video that makes it look like she's collaborating on a bath bomb with Lush Cosmetics (which I would also be totally here for @Kim).
Fans are freaking out over the gorgeous photo.
There's currently no information about the Ultralight Beams highlighters and glosses on the KKW Beauty website. She apparently wants to keep that info secret a little bit longer! Speaking of Kardashian family secrets... we still don't know for sure if Kim and Kanye's baby girl (who is expected to arrive via surrogate "before Christmas") will have two baby cousins about the same age come 2018. Yup, Kylie Jenner and Khloé Kardashian still haven't confirmed or denied the pregnancy rumors about them.
Mama Kris Jenner might've hinted that they are pregnant during the Kardashian holiday special this past Sunday, Nov. 26, however.
In the episode, Jenner says through tears, "I used to pray that one of you guys would have a baby, and now it's like a faucet that we turned on that won't turn off." She continued, "The fact that I have all these grandchildren. It's been the most amazing journey to watch your kids — because it's truly the meaning of just life." Kim Kardashian recently told Ellen Degeneres that her family has a strict rumor policy that pretty much states they respect one another's privacy by only speaking for themselves, so we won't be able to get any info out of Kim K about Kylie and Khloé.
According to the source, Jenner wanted to take half a year off in preparation for the reported baby, so she took herself out of the spotlight. The source told People, "Kylie wants to disappear and be out of the spotlight and focus on her health and happiness." They added, "Kylie isn't going to publicly address her pregnancy until she gives birth. She's not doing any public appearances and just wanted to take six months off."
*Sighs heavily.* Fine, Kylie. This is completely fair. But I will be impatiently waiting for your reported baby news while drowning myself in KKW Beauty glitter!