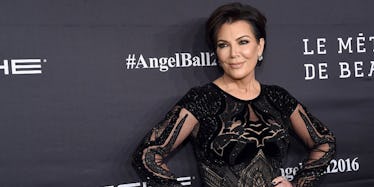 Kris Jenner Fires Back At Online Haters: "Worry About Your Own Situation"
Jamie McCarthy/Getty Images for Gabrielle's Angel Foundation
Don't mess with the Kardashian-Jenner fam. Kris Jenner is clapping back at online haters who are trolling her and her family. And say what you want, but she is a true, bad*ass boss.
The momager of sisters Kim, Kourtney, Khloé, Kendall, and Kylie is arguably today's most successful and well-known lady boss, and created an entire empire out of her and her family's joint work.
As you can imagine, with the kind of exposure she has (not to mention her crazy famous children's exposure), she often receives a pretty insane amount of criticism.
The 61-year-old sexy AF manager recently sat down for an interview with the The Hollywood Reporter's "Awards Chatter" podcast to talk cyber bullies and trolls. She said,
There's definitely a lot of bullies out there. The internet is a crazy place. There's a lot of really miserable, unhappy, terrified, angry, bitter, nasty people out there that don't have jobs or are hopeless or depressed and sad, and they can be a big, fat, important bully by going online and typing a really ugly statement to someone else that they've never even met before, that has feelings and a heart. And I thought, 'Wow, what happened to just you know, 'give peace a chance'? What happened to the '60s?!'
She continued to explain that just because she basically invented the modern day limelight, it doesn't mean she is immune to hurt feelings.
I'm a lot softer than you would imagine. It stings sometimes when somebody says, 'You're so fat,' or 'You're too old to be on social media,' or 'You look awful in that outfit' — like, such silly, stupid things. You're going, 'Really?' I'll call up Kim and go, 'Do I look that bad in that picture? Do I look fat?'
Still, the thing that upsets her most is when people question her motives.
But I think the most hurtful thing is when people will say, 'Oh, you're just managing your kids — you're getting money from your children' or your family or whatever. I'm thinking, 'Well, hell yeah!' I mean, I'm trying to create a business here, and nobody has their best interest like I do. We all love working together and we love our situation. Why don't you go worry about your own situation and go get a job yourself?
Jenner concluded by mentioning how concerned she is for her grandchildren's futures when it comes to social media.
My grandchildren are gonna have a tough time. I worry about them because there's a lot of hate and disruption on the internet.
Fingers crossed the online world is a different place by the time we all have kids, and that Kris Jenner will have cured cancer, cyber bullies, and cellulite forever.
After all, she is the "Queen of f*cking everything."