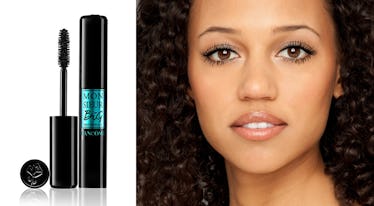 This Is Reportedly The Best Waterproof Mascara Of 2018, So I Won't Hit The Beach Until It's Mine
In my younger and more vulnerable years (this is a Great Gatsby reference), I often scrolled through Tumblr as a source of inspiration. As a beauty-loving adult, I turn to Pinterest for the same sort of inspo, plus product recommendations, beauty tutorials, and more. So when I came across some pins about the best mascara of 2018, let's just say I was beyond intrigued.
Every few months, I tend to create a mini crisis in my mind in which I absolutely must declutter my makeup collection and start fresh with only the best of the best. This often happens right as the seasons change, and as the weather grows warmer, my liquid lipsticks suddenly feel too heavy for summer, and my dewy foundation makes me look like an oil slip. A major must once peak summer arrives is to lock down the perfect waterproof mascara — your girl has a pool, and she's not afraid to use it. At least, she doesn't want to be afraid, but the thought of mascara tears and raccoon eyes is a serious potential threat.
As I perused Sephora, Ulta, and the likes, there wasn't one waterproof mascara in particular that stole my heart. Luckily, according to Byrdie, trusty Pinterest investigated what others were loving and found the answer to our prayers.
Lo and behold, Pinterest highlighted the Lancôme Monsieur Big Waterproof Mascara ($25, Lancome), and my search was over.
While I've never personally tried the non-waterproof version of the Monsieur Big formula, I've had great success with other Lancôme mascaras in the past, so I wasn't surprised to see one of its products come so highly recommended. I used to swear by its Hypnôse Drama Mascara ($27, Lancome), and only stopped using it after going through my first tube, a backup, and my backup's backup. It was bomb, and for that reason, I trust Lancôme knows a thing or two about lashes.
According to Pinterest, the Monsieur Big Waterproof Mascara is the most-saved waterproof mascara currently being pinned, with a 316 percent spike in just April. Curious, I went to Lancôme's site for further ~investigation~, and after seeing some shots of models wearing the formula, I totally get the hype.
Hello, long, lush, defined lashes, nice to meet ya!
So, yes, this mascara clearly works like a dream, but you might be wondering how they managed to get it so right. The formula itself is said to be sweat-proof and smudge-proof, and can stay on up to 24 hours without getting funky or flaky. That's thanks to waxes and polymers in the mascara that cling onto your lashes for buildable, long-lasting impact.
Need some more evidence? The brand put out a splash test video to show how waterproof the formula really is:
In the video, the model applies the mascara and her lashes lengthen times 1,000 — OK, it technically promises 12 times the volume, but still — and then goes full cleanser commercial mode by leaning over a sink and splashing generous amounts of water onto her face. Seriously, does anyone actually wash their face like this? Nevertheless, it's an effective way to show the product's staying power, because the "after" results are still long and voluminous, if not slightly less defined than the dry lashes.
The mascara is available in both the full size and a travel size version ($12, Lancome), the latter of which sounds perfect for taking on future beachy vacations, or you know, downstairs to my pool.
So, what have we learned here today? The good: Pinterest is the ultimate source for finding your next new beauty must-have. The great: Lancôme's Monsieur Big Mascara has a bomb waterproof formula that you need ASAP. The bad: I've now convinced you to splurge on yet another mascara for your collection. Sorry not sorry, because this time, you really need it!