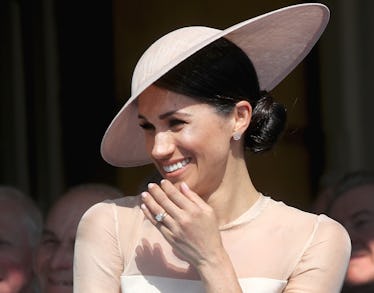 Meghan Markle's Favorite Mascara Is A $9 Drugstore Find, So We're All Gonna Be Princesses Now
Chris Jackson/Getty Images Entertainment/Getty Images
It's like, every single day, there's a Cool, New, Exciting makeup product that a celeb says they love, and every day, I have to look at my wallet and say, "Sorry, buddy, we have to do this again," as I take out my credit card through my wallet's tears. It's truly devastating, but I won't deny it happens. That being said, this process is significantly easier on my wallet when said product is actually affordable — like, a college student's version of affordable. Thankfully, Meghan Markle's go-to mascara falls under this category, meaning both my wallet and I can be on speaking terms.
In a recent interview with HELLO!, Meghan Markle's former makeup artist, Lydia Sellers, dished on some of Markle's go-to makeup products, the now-royal's overall preference when it comes to her everyday look, and her thoughts on Markle's wedding day makeup. While you might expect Markle's fave products each to cost more than your entire savings (just me?), you'll be surprised to find out that one of Markle's go-tos is something you can find at pretty much every major drugstore: Maybelline's Lash Sensational Luscious Mascara ($9, Amazon). This less-than-$10 find rivals that of many a luxury brand, and clearly, no one knows that better than Meghan Markle. In fact, according to Sellers, Markle was the one to show Sellers this product.
"Meghan actually introduced me to a drugstore mascara, Maybelline Lash Sensational Luscious Mascara. I keep it stocked in my kit now at all times thanks to her!" Sellers told HELLO! "This mascara really helps to amplify your lashes and polish off the entire look. It's great for full volume and lengthening, the formula is super hydrating. I love how it builds, and that the price point is accessible for all budgets."
When it comes to the other products Markle consistently uses, let's just say, they're not... as affordable as the mascara, but they span a pretty wide price range. The three other products Sellers mentioned vary from an eyeliner for about $18 to an approximately $300 face cream (depending on the size). "Meghan loves a highlighter from RMS, a Kohl Eyeliner pencil she consistently uses from MAC, and a Face Cream by La Mer," Sellers said.
While Sellers only listed a few of the products Markle adores, it's important to note that Markle isn't one to cake too many products on her face at once (not that there's anything wrong with doing so). Rather, she tends toward a more natural look. "Meghan favors a less-is-more approach to beauty; fresh, dewy skin to show off her natural tone and freckles; thick, lush lashes; a hint of color on the lips," she said. "At night we'd amp it up with a sultry, slightly darker smoky eye or sometimes a bold pop of color on her lips. She is a very classic, subdued glam kind of gal, which I truly admire."
As you can see in the wedding photo above, this approach to makeup governed Markle's beauty look for her wedding, which featured soft, subtle, glowing features. As Sellers described, this was "subdued, elegant glamour at its finest."
"This look is all about the skin taking center stage. It's a look Meghan feels the most natural and authentic in. Dewy skin and freckles with a glowing flushed cheek. Her eyebrows perfectly defined and her eyes amplified with earthy tones. Volume in the lash with layered mascara. All balanced with a subtle, nude lip."
While we Meghan Markle fanatics may not all be able to snag that La Mer face cream, we can still cop her go-to mascara to embrace both thick, full lashes, and our inner princesses.