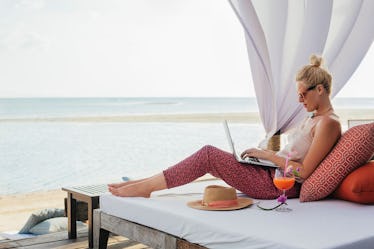 7 Places Every Writer Who Needs Some Inspiration Should Rent Out For A Weekend Retreat
Writer's block is real. It's such a struggle when the creativity just isn't flowing. You had all of these awesome ideas in your head when you first sat down at your desk, but now you're left blankly staring at your screen, praying for the words to write themselves. As someone who has been there before, the only thing that could help me get out of my funk was hitting the road. Needless to say, if you're currently in that boat, you should consider some of the best places for writers to go on vacation for a weekend retreat that'll inspire you.
A writer's retreat can really do wonders for your creative process. When I first moved to Los Angeles three years ago, I went on a writer's retreat upstate with some friends. We rented out a beautiful cabin in the woods, and the change of scenery motivated me to finish multiple drafts of projects I was working on. Now, I've officially hopped on the writer's retreat train, and I'm handing you a ticket to get on board as well.
Not only will it help you write, but it's a great excuse to get out of town for a few days to a dreamy location. So, gather your writer friends, and decide on any of these seven places to rent out. I wish you luck on that stellar first draft, and a weekend well-spent.