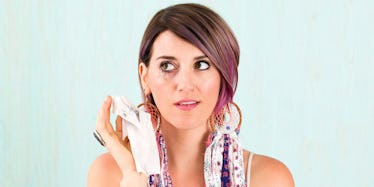 Here's How You Can Remove Waterproof Mascara Without Damaging Your Lashes
Kurt Andre
Ladies, whether you wear waterproof mascara on the daily (if you do, you have to tell me your secret to keeping your lashes healthy) or are more like me (the occasional user for special events), you have to be gentle in the process of removing it.
Mascara can be super challenging to take off. This often results in lashes falling out or breaking, which no one is on board with. Because I personally have struggled with this, I felt it was time to share my go-to mascara hack for taking off waterproof makeup with ease.
Follow these three simple steps to remove stubborn mascara the safe way:
Step 1: Choose your product, and apply with your fingers.
Find the best makeup remover for you. I'm loving The Estée Edit by Estée Lauder Dissolve the Drama 2-in-1 Makeup Remover and Cleanser ($32) because it's actually formulated to remove your makeup and cleanse at the same time. The aloe, cucumber and oils in this mix feel really lightweight, and they don't leave a weird, filmy texture behind like a lot of makeup removers do. 
Apply the product to your lashes by pouring a little bit of the remover onto your fingertips. Before taking them to your lashes, you'll want to rub your fingers together to spread out the product a little. You'll feel the mascara sort of ball up in your fingertips as you apply gentle pressure.
Step 2: Use a cotton swab to break down the remaining mascara.
Apply a small amount directly to your cotton swab. You don't need the product to fully saturate the cotton swab. Less is more here, since you already started the removal process with the last step.
Tap, wiggle and use downward motions. Rubbing your eyelashes too hard is what causes them to fall out. To avoid this, the trick is to make small movements — left to right and in a downward motion — so you don't ruffle them up too much.
Step 3: Bust out the Q-tip.
Dab your Q-tip in to your makeup remover for one last dose of product.
The final move here is to use your Q-tip to swipe the residual makeup from your lash line.
The Results
As you can see, my right eye is clean and completely free of any mascara or eyeliner residue. Also, side note: Notice the power of a little makeup.
For the record, this would work for regular mascara or any heavy makeup application (like glitter). You just need to give a little extra loving to your eye area when you choose to go there with your beauty look.
For more beauty hacks, follow us on Pinterest.