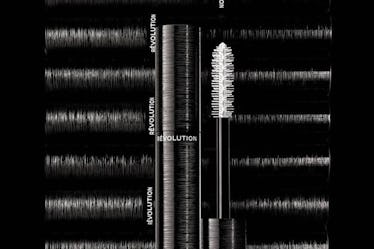 Chanel's New Mascara Comes With A 3-D Printed Wand, So It's Officially ~The Future~
Chanel
If you're an avid tech lover who just so happens to also be a beauty junkie (there are many of us out there), then this may just be the latest product of your dreams. Chanel's Le Volume Revolution Mascara, which not only offers a nourishing formula, but also a 3-D printed wand. The first of its kind for the French couture brand and the beauty world, it's not just cool — it's historic!
While the mascara itself — which Chanel's website says is comprised of a mix of rice wax, beeswax, vitamins, and polymer film to give users an all-day "extreme volume" finish — seems quite luxurious on its own, it's actually the unique brush that really sparked my interest. I wasn't exactly sure what difference a 3-D printed wand would make, but I was pleasantly surprised once I found out.
Unlike most mascaras, with Le Volume Revolution, you won't have to re-dip the wand every time you're ready to add another coat. According to British Vogue, the brush is printed with honeycomb-like pores, allowing it to absorb just enough formula to get the job done with way less work on your end. The results? Because the brush is printed in a millimeter scale, you'll get a volumized, defined look, without having to worry about clumpy lashes, which is often a result of applying too many coats.
As with most Chanel products, whether beauty or fashion, the legacy brand didn't just think of this new innovation overnight. Allure reports that the idea for the unique wand was patented over 10 years ago — in 2007 — and, once ready for production, was manufactured by French 3-D printing company Erpro. Teen Vogue also adds that the company reportedly tested out over 100 versions of the wand before deciding on the perfect one. Talk about attention to detail! But to be fair, I wouldn't expect anything less from Chanel.
But with most things that seem too good to be true, there is a bit of a catch when it comes to Le Volume Revolution. Sadly, despite Ulta announcing it would begin selling Chanel beauty products back in March 2018, this particular product is only available in the U.K. for now. So while most of us will have to keep our fingers crossed and wait to see if the mascara will make an international debut, if you're planning a London getaway or have a friend who's visiting in the near future, not all hope is lost!
Since Chanel's U.K. website also doesn't offer shipping outside the country, we'll have to stick to just re-watching this promotional clip of Chanel's longtime brand ambassador and actress Kristen Stewart showing off her lashes over and over again for now. TBH, that doesn't sound like an awful plan.
In the meantime, however, if you're really itching for a new Chanel mascara, and are willing to skimp on the 3-D brush, the U.S. Chanel site still has eight different types for you to choose from that offer a range of coverage, from waterproof formulas to volumizing, lengthening, curl, and more. Most come in at least two shades, and all are priced at $32, so you can still tote luxurious lashes without doing any serious damage to your bank account.
But if you're lucky enough to get your hands on a bottle of Le Volume Revolution, applying seems super easy and quick! The luxury giant recommends using a sweeping stroke, beginning at the lash roots, then making your way to the tips, slowing moving the brush back and forth, using a "zigzagging" motion. Of course, only a single coat is suggested.
Brace yourselves. We've officially made it to the future.