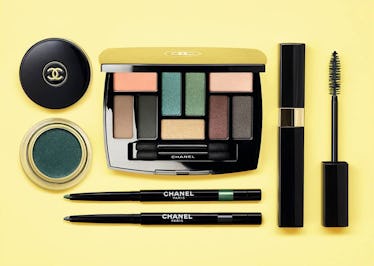 Ulta Will Start Selling Chanel Beauty Products & My Bank Account Is In Trouble
Ulta is the holy grail of beauty stores. You can find almost any brand or product at the makeup Mecca. Few brands are absent from their shelves, and now even fewer because Chanel Beauty at Ulta is becoming a reality.
Chanel is the holy grail of beauty, IMHO, their products are gorgeous, timeless, and of the highest quality. Their covetable goods have typically been sold at high-end department stores where I mostly aspire to be able to shop (think Barneys and Saks Fifth Avenue). Ulta, on the other hand, is a store at which I'm already able and love to shop. One of the most exciting times in my life is when I start to run out of highlighter or eyeliner and have a legitimate excuse to go on a makeup shopping spree. I swear my life is more interesting than that just made it sound, but I do love makeup!
My next makeup purchase just got a tad more stressful, though, because Ulta is adding an epic name to their roster: Chanel. Ulta currently sells Chanel fragrances, which is great, but also kind of a tease because I want all things Chanel. Alas, now I can have it, and so can you!
You get Chanel! You get Chanel! Everybody gets Chanel!!!
This Oprah gif will never go out of style.
Industry news site Racked was one of the first media outlets to report the beauty breakthrough. CEO of Ulta, Mary Dillon, spoke to Racked about the new partnership,
Finally, we're thrilled to announce a prestigious addition for 2018 — Chanel Beauté. Following our long-standing partnership with Chanel offering their iconic fragrances in hundreds of our stores, we are honored to introduce Chanel Beauté in a small number of Ulta Beauty doors this year. This will be an edited assortment featuring a Chanel-branded makeup station with the first Chanel store opening in Westport, Connecticut, in just a few weeks.
If you don't live in Westport, CT it may be time to make a pilgrimage to the Constitution State. Ulta hasn't given more details about what other stores will sell Chanel, so keep an eye out for signs of the new brand at your local Ulta store.
The jury's also still out on exactly which Chanel products will be sold at the chosen stores, but Chanel offered a peak at their spring-summer 2018 collection on Instagram. The lip products range from lipstick to lip gloss to a lip powder, oh my! There's also a vivid blue lip gloss, which is a departure from the more classic colors that Chanel usually offers, but I'm into it.
Chanel's spring eyeshadows and eyeliners are defined by a bold, shimmering teal hue. This is a darker than usual color theme for spring or summer from any brand, but there's plenty of brightness in the eyeshadow palette to liven it up.
I'm actually drooling over these spring nail polish colors, so I really hope Ulta will have them. That sweet bubblegum pink and that impeccable turquoise; I can't. And yellow! I've never worn yellow nail polish before but I think I'm about to start.
After the big news broke to the public, it made its way onto Twitter where it was received with unbridled excitement. Trendmood was one of the first to tweet the news, "#Ulta is definitely #OnFire 🔥🔥🔥."
So many exclamations points, so much excitement, so much beauty!
It's a win-win.
If I can't use my Ulta reward points for Chanel, then I give up.
Pure genius, honay!
I'm eternally grateful to the makeup gods.
I'm not crying, you're crying!
#Winning.
I predict a shopping spree in your future.
Done.