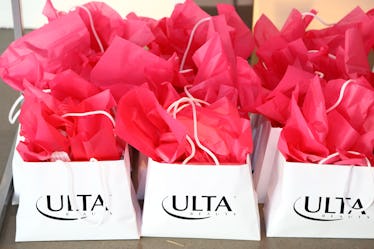 Ulta's 21 Days Of Beauty Sale Is About To Begin, So Don't Spend Your Entire Paycheck
Astrid Stawiarz/Getty Images Entertainment/Getty Images
Around this time of year, everyone seems to be in a bit of a funk. The holiday shopping season is long gone, and I'm counting down the days until summer. Things are looking up, though, because Ulta's 21 days of beauty sale is about to take us all prisoner.
The beauty-obsessed have likely been counting down the days until this event. One of my friends even has Ulta's 21 Days of Beauty on her calendar, but if you don't have every makeup sale memorized, don't worry. This sale runs twice a year and features Ulta's best selling products. It's like Christmas, your birthday, and receiving free Beyoncé tickets all in one. OK, maybe not as heart attack inducing as being in the presence of Queen Bey, but close enough. Shopping some of Ulta's well-known brands with a mega discount sounds like heaven to me.
If you're obsessed with Sephora's Weekly Wow sale, this is along the same lines. For 21 days, Ulta shoppers will receive discounts on products from skincare to hair to makeup. The only catch is that only a product or two will go on sale every day for the duration. Don't fret; the retailer will continuously switch up the deals, so you'll be able to come out a winner.
According to Bustle, rumblings of the beauty event surfaced weeks ago when the beauty Instagram TrendMood released the dates. The event will begin March 18 and run until April 7. Fingers crossed mother nature will bless us with warmer weather by then, so I can show off what I bought to the world. If not, hey, there's always Instagram.
Most recently, Ulta took to social media to confirm the beauty bonanza was happening, so you have a couple of days to get your life in order. I recommend you strengthen your wrist (so you can quickly browse through the site), drink some carrot juice (vitamin A does wonders for the eyes), and make sure your Wifi is on point.
You won't find out which products are on sale until the morning of each day. In the past, there have been unbelievable discounts (think 50 percent off) on brands like Perricone MD, Lora, Tarte, Buxom, BareMinerals, and more. I'm super excited for this year's sale, but I'll have to make sure I don't blow my entire paycheck. The provider of my student loans is not going to understand that I needed to indulge. I know Ulta fans are in for a treat because the brand has been steadily adding new products to their roster.
At the end of 2017, Ulta introduced Milani, Morphe, and Dose of Colors to its roster, but at the beginning of 2018 the brand really leveled up. In February alone, Wet 'N' Wild, e.l.f. Cosmetics, and Storybook Cosmetics found new homes at Ulta. When Danelle Schlegelmilch, chief communications officer of Storybook Cosmetics, spoke with Refinery29, she noted that deals with large conglomerates like Ulta allow for the production of better products.
I think the Ulta Beauty deal will help us be able to fund projects. You see things teased on Instagram, but they don't get created right away just because we're such a small company and it takes a lot of resources to get things into production and to develop the stuff we want to do.We haven't had the funds to produce at the rate that their imaginations do. There are so many more cool things we've been dying to get out there. This is going to be the next step to let us do that. It's cheesy to say, but the best is yet to come.
I have to echo that sentiment. With beloved brands like Storybook finding major distribution, it can only mean fruitful things are on the way for shoppers.
If you haven't been on the Ulta website in a while, take a peek before the excitement begins. It's a new dawn, it's a new day, and I'm feeling good...about the next 21 days.