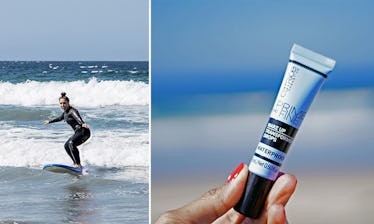 I Tested $6 Waterproofing Makeup Drops During A Surf Lesson & My Cat Eye Doesn't Lie
Stephanie Montes
Ever since I first saw Camilla Belle in the Disney movie Rip Girls, I fantasized about being a surfer — then Blue Crush convinced me I could be. I had my look totally planned out, too. My imaginary surfer-girl style is basically that of Michelle Rodriguez's character Eden: cute triangle bikini top paired with board shorts. I'd wear my hair down with an air-dried, salty texture and go sans makeup to let my freckles take center stage. Last week, I finally had my big surf moment and it wasn't what I envisioned. I'm testing Catrice's waterproof makeup primer so I show up to my lesson with a full face of makeup (I'm talking full-coverage foundation, lipstick, a cat eye, the whole nine). After all, I am a beauty writer first and surfer girl second.
I was invited to go surfing with pro surfer Malia Manuel, Lululemon ambassador and the youngest ever person (over the boys!) to win the U.S. Open of Surfing at age 14. She collaborated with the sportswear brand to design a line of cute bathing suits, so we headed to Zuma Beach, California, to test them out and train with Manuel. I chose this black Will The Wave Long Sleeve One Piece ($128; lululemon) below and got dressed.
While everyone else showed up to the beach looking natural (exactly like my wannabe surfer vibe), I felt somwhat self-conscious for wearing so much makeup — but it was all in the name of experimentation. I decided my opportunity to go surfing with Malia (aka waves crashing in my face and me wiping out) would be the perfect opportunity to test out the Catrice Prime And Fine Make Up Transformer Drops Waterproof ($6; Ulta). This affordable tube claims to make any foundation waterproof when mixed with a few drops, so I mixed it with every step of my makeup routine.
I woke up extra early to do my makeup. To get an accurate read on the staying power of the waterproof drops, I skipped primer, setting powder and setting spray — I figured if the drops are as good as Catrice says, it wouldn't need all the other stuff to help. First I mixed the waterproof drops with my Huda Beauty #FauxFilter Foundation ($40; Sephora) and applied it all over with a makeup sponge. Then, I scooped a tiny bit of cream contour and highlight shades out of my Pro Conceal Contour 19-Piece Professional Conceal & Contour Kit ($13; Target) and mixed them on a pan with the drops. I did the same with cream eyeshadows, a cream blush, liquid lipstick and liquid highlighter — I'm determined to make every aspect of my makeup completely waterproof. Lastly, I mixed my Tarte Tarteist Clay Paint Liner ($24; Tarte Cosmetics) with the drops and drew on my cat eye. I might look like I'm about to go to a party, but I'm ready to hang 10.
Before:
After about three hours in the water, four wipeouts and countless waves crashing at my face leaving the shores, my makeup still looked almost as good as when I first arrived on the beach. All the other girls were completely mesmerized. I got compliments from the ones that knew what I was up to — the girls who didn't asked me for my secret.
After:
As you can see, my eyes are red from the salt water, but my cat eye is still in place. My foundation is still in tact and my lipstick looks untouched. The only area that looks messed up is around my nose — it's a little red, but only because I kept wiping it. It was freezing that day and my nose wouldn't stop running.
I am so impressed with these $6 drops, and they really did make all of my makeup waterproof. I was in the ocean with Malia Manuel and just like Kate Bosworth in the Blue Crush finals, I took a beating — OK, it wasn't that bad, but even those baby waves we were surfing felt scary at times — but you'd never know it from my perfectly in-place cat eye.