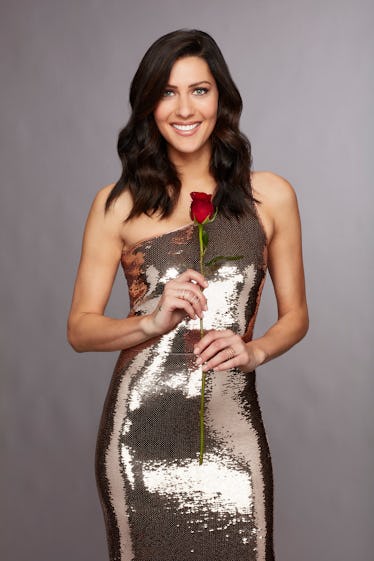 'Bachelorette' Becca Uses This Waterproof Mascara & It Lasted Through Her Breakup With Arie
ABC
If there's one thing in this world that I believe doesn't deserve your tears, it's a guy who dumps you. Maybe it's because I'm gay, or maybe it's because I've spent my whole life suppressing my emotions to dangerous levels, but that's how I feel. Still, that doesn't mean you aren't allowed to cry when it happens. It hurts like hell! If there's one person who knows that all too well, it's Bachelorette Becca Kufrin. Though she may have gotten her heart broken on national television, Becca Kufrin's waterproof makeup on The Bachelor finale had even more staying power than Arie did after Becca told him to leave. (Seriously, dude stayed after she told him to leave at least 80 times.)
All jokes aside, though, what happened to Becca on The Bachelor should never happen to anyone. Breakups suck! Being blindsided with one sucks worse! Nationally televised blindsided breakups suck the most! But when those sad, tear-inducing moments in life come along, it's important to be prepared. And let me tell you, one look at Becca's face during that finale episode showed that, despite not knowing the breakup was coming, she was ready to tackle it — beauty-wise, that is — with a cult-favorite waterproof makeup product.
As you can see in the recap video above, Becca's eyes were far from dry during the finale. I mean, how could anyone hold back tears in this moment? The guy you were planning to marry — the guy who proposed to spend the rest of his life with you — comes to what should've been your fun weekend away with a camera crew so he can break up with you? Let's just say, if I were Becca, I would've been holding back a lot more than tears at that moment.
But after seeing this awful, awful footage, one major question I and many other viewers had is, what the hell kind of eye makeup is Becca wearing during all of this? Seriously, after every single tear, after every single eye rub, after every single "please leave," Becca's eye makeup did. Not. Budge.
Well, it's no wonder why her face wasn't stained with mascara tears. According to InStyle, Becca makes sure to have waterproof makeup ready to go. One of her favorites? The waterproof version of Too Faced's Better Than Sex Mascara ($23, sephora.com). Trust me, there's a reason this particular mascara has a cult following.
"After my breakup [with Arie], I learned that it's always good to have waterproof mascara on hand–with this show, you never know when you're going to cry," Kufrin told InStyle. "I like a lot of MAC Cosmetics' waterproof versions, but my absolute favorite mascara is Too Faced 'Better Than Sex.'"
Same, girl. Too Faced's Better Than Sex Mascara has already gained a huge backing amongst makeup artists and makeup lovers alike, thanks to its intensely volumizing formula and bushy, hourglass applicator that'll simultaneously coat and separate every one of your lashes from the next. Mix that with a waterproof formula that, according to Sephora, is designed for "sweat-proof, play-proof wear," and you have yourself a winning mascara that's even worthy enough to grace the lashes of The Bachelorette. (@ Too Faced, you may now want to add "breakup-proof" to this baby's description.)
If you're wondering what else Becca uses to keep her face looking fresh AF, even in the midst of an on-air disaster, she also told InStyle, "I couldn't live without a good moisturizer to put on my face in the morning and at night." According to the publication, makeup artist Gina Modica used Glycelene's Opalescent Eye Serum ($85, glycelene.com) on Kufrin to keep her under-eyes moisturized, to reduce any puffiness, and to brighten them up a bit.
While I absolutely hate to see Becca cry, I love to see that she doesn't have to risk runny makeup for a lame-o who clearly doesn't understand the terms and conditions of being in a monogamous relationship. Hopefully, she never has to cry over a guy again, but all I'm saying is, if the tears start flowing again, Becca's tears are no match for her beauty product picks.
So, Too Faced Better Than Sex Mascara... will you accept this rose?