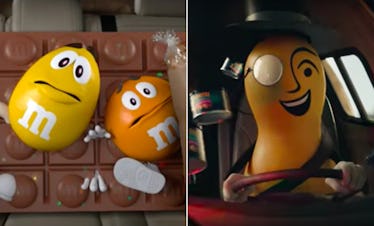 Here Are All The Funniest Super Bowl Commercials, Because You Know They're The Best Part
I have to admit: I don't know a lot about sports. Sure, I played on a few teams in high school — but professional games aren't exactly my cup of tea. Therefore, my favorite part about the Super Bowl — next to all of the appetizers, of course — has always been the commercials. Thankfully, this year's Super Bowl isn't disappointing in the realm of hilarious ads. Those of you watching the game have probably seen all of the funniest Super Bowl 2019 commercials live — but if you haven't been intently watching, you might be curious about what you've missed. If that's the case, I have your back.
Before I get into this year's commercial spots, let's talk about last year's Super Bowl for a moment. If you watched the game in 2018, you probably noticed that there were a ton of hilarious commercials that aired. Between Amazon Alexa losing her voice, Danny DeVito as an M&M, Bud Light's Bud Knight, and so many more, it was pretty tough lineup to follow. However, the commercials during this year's game will make you laugh just as hard as before (or even harder, TBH). Sit back, grab a few nachos, and enjoy the ads.
Oh, try to pay attention to the game, too.