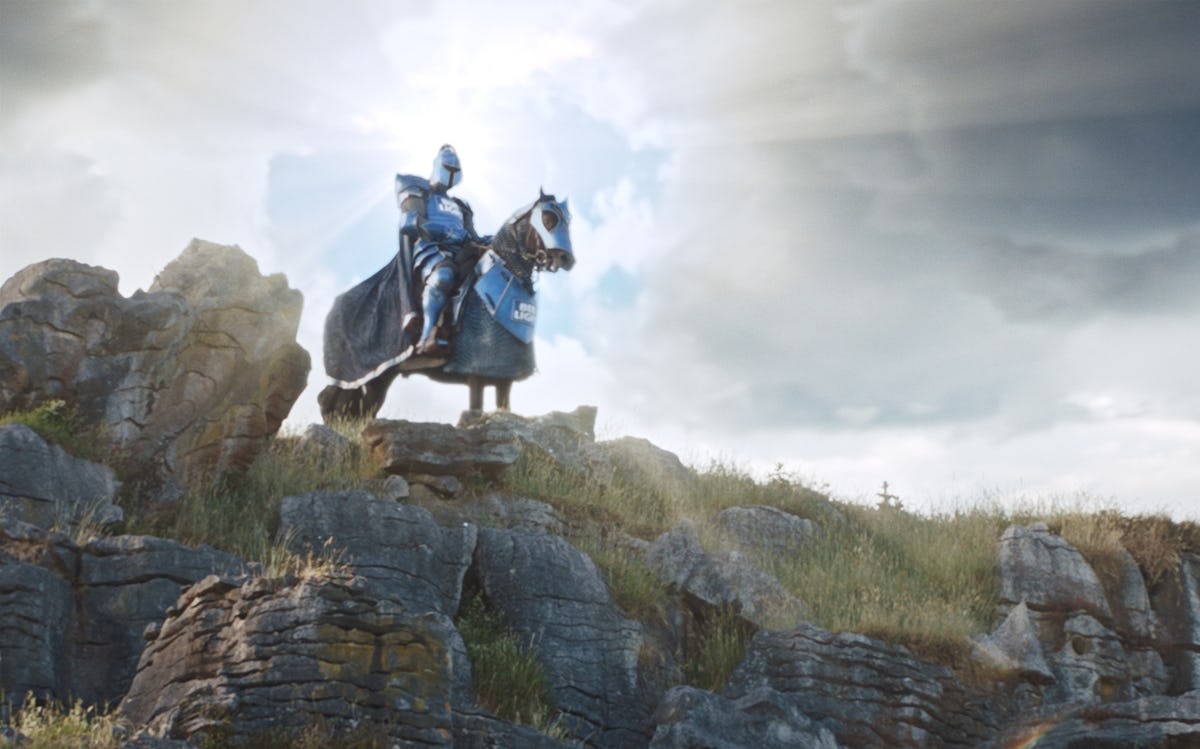 Bud Light's Super Bowl Commercial Will Make 'Game Of Thrones' Fans So, So Happy
Bud Light
Bud Light just made Game of Thrones fans super happy with a medieval-themed commercial chock-full of horses, battles, knights... and beer. The highly-anticipated ad completes the "Dilly Dilly Super Bowl Trilogy" that was announced in late 2017, and it's giving me all the GOT vibes (I don't even watch the show, but I'm still feeling them). If you missed Bud Light's 2018 Super Bowl commercial during the game, have no fear — it was uploaded to YouTube on Feb. 1, and I have all the deets you need.
The final Bud Light commercial that finishes the Dilly Dilly trilogy is called "But Knight," and it's pretty damn theatrical. Almost immediately, the minute-long clip cuts to a violet battles full of dragons, fires, and swords. Then, amid the chaos, the Bud Knight enters the scene. The Bud Knight is basically just a super buff knight with the Bud Light logo on his armor (simple, but genius). Once he shows up on his horse atop a cliff, everyone stops fighting and stares at him in awe. By the looks of it, everything thinks the Bud Knight will save them.
However, when he rides into the crowd, he doesn't immediately start fighting. Instead, he "does what must be done," and heads straight to the store to pick up a pack of Bud Light (obviously).
After picking up his beer, the Bud Knight rides through the crowd again. In shock, someone asks him if he's going to help them fight — and apparently, that was never Bud Knight's plan. Instead, he talks about heading to a party, and asks if the fighter wants to come (if he survives the battle, that is). However, after some hesitation, he decides to help everyone out. The knight then jumps from his horse, takes out his sword, and points it to the sky. Suddenly, a blue lightning bolt shins into the clouds, and everyone on the opposing team is swept away (including the dragon). Like I said, this is some serious Game of Thrones stuff.
By now, you might be wondering WTF all of this came from. If you are, you probably didn't see the first two "episodes" of Bud Light's commercial trilogy. The first one, called "Wizard," aired in December 2017. The ad features a wizard that can turn literally anything into Bud Light, and everyone is awestruck by him. The commercial also shows the crowd saying "Dilly Dilly" — and I'll tell you what that means in just a moment.
Before we got into "Dilly Dilly" talk, let's recap the second Bud Light commercial of the trilogy. It's called "Ye Old Pep Talk," and it was posted to YouTube on Jan. 17. During the commercial, the main knight who's leading a group of men of women into battle gives them a pep talk. Even though his expectations are low, he inspires them to fight for one very important reason: Their Bud Light is gone, and the opposing team has some. The commercial ends with a shot of the two opposing teams going into battle.
Now, the "Bud Knight" commercial probably makes more sense to you, right? The story line is pretty entertaining, and I'm definitely pleased with the outcome (Bug Knight is a freaking hero). Even if you enjoyed the trilogy, you're probably still confused about what Dilly Dilly means.
TBH, it doesn't really mean anything. Miguel Patricio, the Chief Marketing Officer at Bud Light parent company Anheuser-Busch InBev, talked about the phrase at a conference hosted by Business Insider. He said, "'Dilly Dilly' doesn't mean anything. That's the beauty of it. I think that we all need our moments of nonsense and fun. And I think that 'Dilly Dilly,' in a way, represents that."
Well, OK then. Dilly Dilly, ya'll. I hope you enjoyed Bud Light's Super Bowl commercials as much as I did! Keep an eye out for "Ye Old Pep Talk" during the first quarter of the game, and "Bud Knight" during the second.