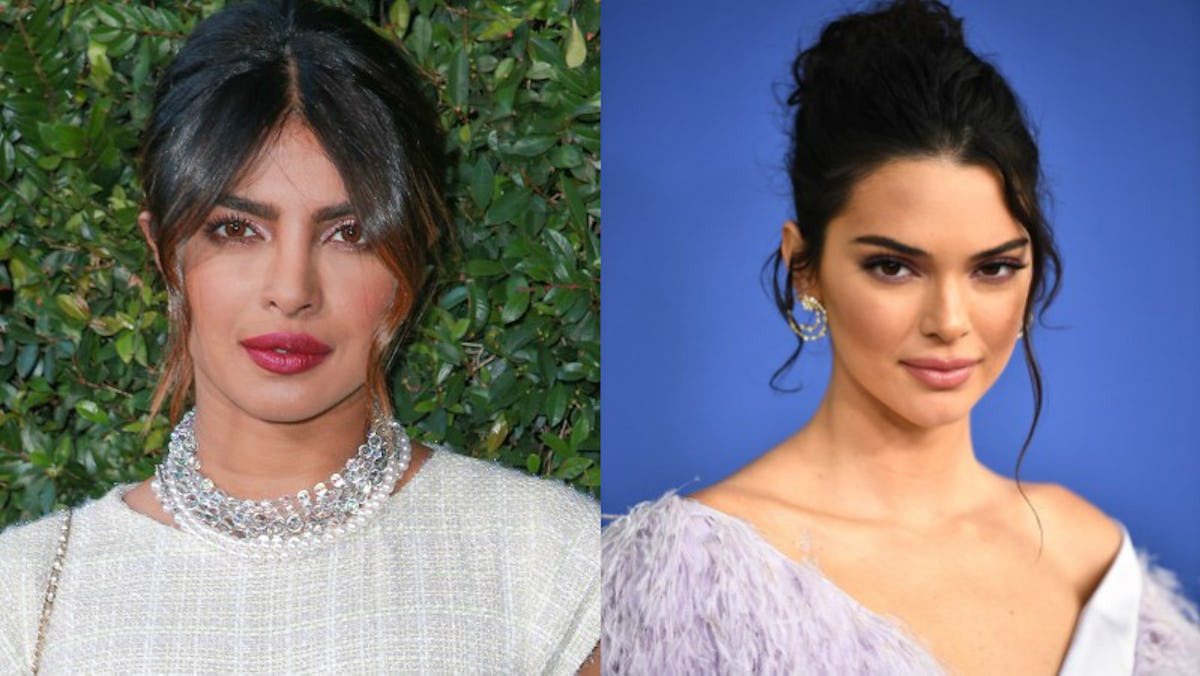 7 Celebrities You Didn't Know Had Piercings Because They Hide Them So, So Well
Rich Fury/Getty Images Entertainment/Getty Images | Dimitrios Kambouris/Getty Images Entertainment/Getty Images
Celebrities are often the champions of new fashion trends. But every now and then, they commit to a trend that's bound to go out of style. Take body piercings, for instance. Remember way back in the early 2000's when belly button piercings were all the rage? Well, they're not so much anymore and that means celebs like Beyoncé aren't exactly trying to show them off these days. But Bey's not the only one. There's plenty of celebs who are hiding their piercings and they're doing a great job at it, too. Here's a rundown of seven celebrities you didn't know had piercings.
Priyanka Chopra
Yes, that Priyanka Chopra who's newly engaged to Nick Jonas. The 36-year-old actress actually has a belly button piercing that she got during a rebellious phase.
In a 2013 interview with Times of India, Chopra explained her decision to get the piercing:
In one moment of madness, I went ahead and got my belly button pierced. I was sh*tting bricks later. I got hold of a friend and went over and told my mother about it. I knew she would freak out. But once things cooled down, my father even got me the diamond I wear. And I'm happy to show it off.
Beyoncé
Chopra isn't the only one with a belly button piercing. Beyoncé has one, too! Since she doesn't bear her belly all that often, it's hard to know what's going on there currently. But back in her Destiny's Child days, Bey definitely had a belly button ring. You can actually see it in this blurry throwback photo Bey posted in 2014:
Kendall Jenner
It seems like the world knows everything about the Kardashian-Jenner family. They share so much of their lives that it's almost like there's nothing left to learn about them. But they do have a few tricks up their sleeves.
Take Kendall Jenner, for example. She's got a nipple piercing that she's actually really proud of, but can't always show off ...for obvious reasons. Who knew, right?
Zoe Kravitz
Zoe Kravitz is making waves on the small screen with her role in Big Little Lies. But she also has a tendency to make waves on the red carpet whenever she shows off her septum piercing. Unfortunately, she doesn't wear it that often anymore, but she's worn it enough for fans to appreciate how edgy it makes her look.
Kelly Clarkson
By all accounts, Kelly Clarkson is a good girl. So, would it surprise you to know that, once upon a time, she had a nose ring? Probably not because Clarkson has always been super stylish (and nose rings were IN way back when), but the singer doesn't really wear hers anymore. And that's a shame because it was super cute!
Bella Hadid
Like fellow model Kendall Jenner, Bella Hadid also has a nipple piercing. Surprise! Hadid doesn't reveal it too often, but she did give the public a glimpse of it back in 2016.
Scarlett Johansson
Zoe Kravitz isn't the only actress on the red carpet with a septum piercing. Scarlett Johansson also has one. It's a bit out of date with her image at this point, but the fact still stands that she wore a septum ring way back when!
Who knew all these ladies were into piercings? I don't know about you, but I'm definitely not brave enough for a septum or nipple piercing. So, I've got to give these gals credit for being adventurous!