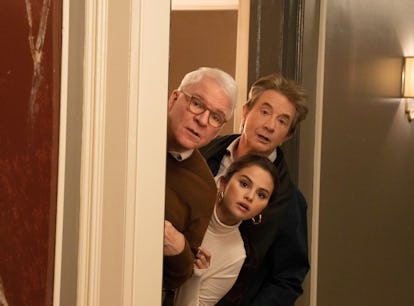 Selena Gomez Is Sassier Than Ever In The Only Murders Season 2 Trailer
Craig Blankenhorn/Hulu
Every successful podcast gets more than one season; hell, even half the ones that aren't successful get a second season, too. Thankfully, the one hosted by Charles, Oliver, and Mabel in Hulu's Only Murders in the Building is also getting a Season 2 and the series about it on Hulu. Here's everything fans should know about the new season, including its returning cast members and updates about a release date.
Warning: Spoilers for Only Murders in the Building Season 1 follow. Podcasting is one of the most popular forms of entertainment in the 21st century — not just to listen to but to make. The format reportedly has titles somewhere in the 2 million range. Parody comes with that kind of ubiquitousness, and Hulu's Only Murders in the Building is pitch-perfect. From ridiculous sponsorships to endless retakes of emotional moments to Martin Short running around with a boom mic the size of Big Bird, the podcast-within-the-series has become a fan favorite. Even the series' successful podcaster, Cinda Canning (Tina Fey), is already making a podcast about it.
But Season 1 ended on a massive cliffhanger as the podcasting trio, after finding niche fame and the fortune of good friends (though not actual money), were framed for murder. They may have solved the mystery of Tim Kono's murder, but now Bunny is dead, and all the evidence is set up to look like they did it. So, what's on offer for Season 2? Let's discuss.
Only Murders In The Building Season 2 Trailer
The first teaser for Only Murders in the Building premiered during the 2022 Oscars telecast on Sunday, March 27.
Despite being arrested at the end of Season 1, the podcasters are not going gently into any good night. They're going to be cool — even if everyone else is cooler than they are.
The full trailer arrived months later, on May 17. The trailer focuses on how Mabel, Charles, and Oliver are now more restricted in being able to investigate Bunny's murder than ever, since they are the three prime suspects. The trailer shows off a bunch of the new guest stars and includes the unexpected return of Tim Kono's murderer, Jan, who appears behind bars in the clip.
The second full-length trailer arrived on June 14 and introduced the portmanteau for all three podcast hosts.
Only Murders In The Building Season 2 First Look Photos
The first images from the new season arrived along with the trailer and featured mugshots of all three of the main cast.
Notably, all three are wearing the same outfits as at the end of Season 1, suggesting the show will pick up minutes after the finale.
Only Murders In The Building Season 2 Cast
As the podcasting lead trio, Steve Martin, Martin Short, and Selena Gomez are all confirmed to return as Charles, Oliver, and Mabel, respectively. Hulu has not confirmed who else might return for Season 2. However, it seems likely that competing podcaster Cinda Canning (Tina Fey) will be back, as will sponsor Teddy Dimas (Nathan Lane), who has to figure out how to get his stars to record from prison. And Da'Vine Joy Randolph will probably be back as Detective Williams, the podcast fan who winds up being the trio's arresting officer.
Hulu has confirmed a few new faces, starting with supermodel Cara Delevingne, who was announced to be a series regular for Season 2 on Dec. 1. Delevingne will play a sophisticated insider in the art world named Alice, a crucial part of Season 2's plot. In a May 5 interview with Vanity Fair, showrunner John Hoffman revealed Delevingne's character Alice will be a love interest for Mabel.
Other big names which will pop up in Season 2 include Amy Schumer and Shirley MacLaine, both in undisclosed roles.
Hoffman also said the show was planning to bring back at least one guest star from Season 1, provided she was available. The production asked back Jane Lynch, who played Sazz Pataki, Charles' stunt double from his Brazzos days. Her performance was a hit among critics and fans, and Hoffman told Deadline he was hoping to work out a schedule to have her return as part of Season 2.
However, Jayne Houdyshell, who played Bunny, probably won't return. As the resident of the Arconia whose murder kicks off Season 2, it seems likely she won't be back unless it's in the morgue.
Fans are hoping for most of the Arconia's other residents to return in Season 2, including Aaron Dominguez as Oscar, Vanessa Aspillaga as Ursula of Gut Milk fame, and Jackie Hoffman as the cranky smoker Uma, and Jeena Yi as her BFF, Amy. Fans also hope to see more of Michael Cyril Creighton as the cat-loving Howard, Zainab Jah as the real estate-minded Ndidi, and Russell G. Jones as therapist Dr. Grover Stanley.
Only Murders In The Building Season 2 Plot
Along with the trailer came an official synopsis:
Following the shocking death of Arconia Board President Bunny Folger, Charles, Oliver & Mabel race to unmask her killer. However, three (unfortunate) complications ensue — the trio is publicly implicated in Bunny's homicide, they are now the subjects of a competing podcast, and they have to deal with a bunch of New York neighbors who all think they committed murder.
Only Murders In The Building Season 2 Filming Updates
On Sept. 14, 2021, Hulu announced Only Murders in the Building would return for a second season. The series — which hails from legendary comic Steve Martin, John Hoffman, and This Is Us creator Dan Fogelman — was Hulu's most-watched original comedy premiere and its most-watched comedy ever on the platform.
The renewal came before true crime lovers Charles-Haden Savage (Steve Martin), Oliver Putnam (Martin Short), and Mabel Mora (Selena Gomez) solved Tim Kono's murder, leaving fans wondering if the mystery was going to extend another season. But thankfully, the Season 1 finale solved the case while setting up a juicy new puzzle for the trio to dive into and suspects whose innocence must be proven: themselves.
On Dec. 1, 2021, filming for Season 2 got underway, and Steve Martin celebrated with a brand-new photo of the cast's main leads.
Martin, Gomez, and Short may be happy to be back on set, but Charles, Mabel, and Oliver are probably not having a happy time since Season 1 ended with the three of them hauled off in handcuffs.
Only Murders In The Building Season 2 Release Date
On March 25, 2022, Hulu announced that Season 2 of Only Murders in the Building would premiere on June 28, leaving fans with just a few months before everyone's favorite podcasters are back on the air — or behind bars.
This article was originally published on