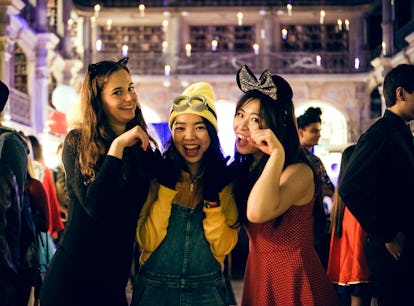 These Last-Minute Halloween Costumes Include Items You Probably Already Own
Who knew an old sweatshirt could be so versatile?
JHU Sheridan Libraries/Gado/Archive Photos/Getty Images
With the scariest night of the year just around the corner, it's crunch time to figure out your Halloween transformation. Halloween can get competitive out there in the real world — not to mention expensive. Luckily, it's easy enough to put together last-minute Halloween costumes from your closet with just a few key materials.
In addition to saving you money on an expensive Halloween costume you'll only wear for one night, a homemade costume will also win you points in the creativity department. Making your own costume almost guarantees you'll have to come up with something totally unique, meaning you won't have to worry about running into someone who has the same panic-buy costume they snagged earlier that day. (Because let's face it… we've all been that person who has shown up in the same outfit as someone else, and it's not ideal.)
So, before you freak out and order overnight shipping on a $50 Harley Quinn costume, consider one of these Halloween costume ideas that cost nothing and can be quickly put together from the clothes and accessories you probably already have in your closet. If you have an animal print top, tank top, or black leggings, you'll be set with a costume in no time.