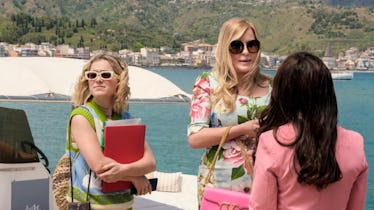 The White Lotus' New Trailer Finally Reveals Season 2's Storyline
Aubrey Plaza asks the question everyone wants to know: "What happened last night?"
HBO
The White Lotus combines sharp, satirical barbs at the mega-wealthy with a delicious whodunnit mystery, creating a bizarrely unnerving trip to paradise gone wrong. So it's no surprise fans are eager for more than just the first season's six episodes. And ya know what? They're getting it! Although the HBO dramedy was originally built to run only a single season, The White Lotus is getting a second season... although it will look quite a bit different from Season 1. Here's everything we know about The White Lotus Season 2, including intel on its cast, location, trailer, and storylines.
It honestly didn't seem very likely at first that the series would get another season, given the show's self-contained plot and its billing as a miniseries. But that hasn't stopped HBO before. The network's buzzy 2017 miniseries Big Little Lies was also referred to as a limited series, but that changed when it was picked up for a second season. Series creator Mike White hinted that something similar could happen with The White Lotus, but instead of continuing Season 1's story like Big Little Lies did, it will become an anthology, in the vein of American Horror Story, True Detective, or Black Mirror.
"My hope is that maybe HBO will want to do another round of White Lotus," White said in a July 18, 2021 New Yorker interview. "I feel like it might take place at a sister hotel, a different kind of seasonal thing. I think there's another season in me that kind of has a different way into this that I think would be cool if they'd let me do this."
Get The Elite Daily Newsletter
You deserve emails that are actually fun — full of juicy celeb intel, astrology, helpful dating advice, and much more. Luckily, our newsletter will bring you all of that, well, daily.
And that's exactly what HBO is letting him do. "Mike has once again delivered a quintessential HBO show, and it's the talk of the town," Francesca Orsi, executive vice president of HBO programming, said in a statement about Season 2's renewal. "We were thrilled to hear where he wanted to go next, after closing this epic chapter in Hawaii, and can't wait to keep following him wherever he takes us."
The White Lotus Season 2 Cast
Initially, Season 2 wasn't expected to bring back any characters from the original season, but there are at least a couple fan-favorite characters returning for another stay. Jennifer Coolidge is set to reprise her role as the spa-loving vacationer Tanya McQuoid in Season 2, TVLine reported on Oct. 15, 2021.
On July 19, 2022, a teaser for HBO Max's upcoming original content confirmed the return of Tanya's love interest, Greg (Jon Gries). The last fans saw of the two lovebirds it looked like they might actually make their relationship work — maybe Season 2 will see their relationship progressing beyond vacation fling.
The new season, set in Sicily, Italy, will introduce a new group of resort-goers for the socialite and her beau to interact with. The first new actor tapped for Season 2 was revealed by Deadline in early January 2022, with The Sopranos alumni Michael Imperioli joining the new cast. He is expected to play Dominic Di Grasso, who is traveling with his father, played by F. Murray Abraham ,and his college-aged son played, by Adam DiMarco. A little later, a report from The Hollywood Reporter confirmed that Aubrey Plaza, best known for her turn in Parks and Recreation, will be joining the Sicilian vacay as well. Plaza will reportedly play Harper Spiller, who is vacationing with her husband, played by Will Sharpe.
YA favorite Theo James will also star in the second season as Cameron, husband to Meghann Fahy's Daphne — you might recognize Fahy if you're a fan of the 2017 Freeform series The Bold Type. The rest of the cast is filled out by Tom Hollander (Pride & Prejudice), Haley Lu Richardson (Five Feet Apart), and Leo Woodall (Cherry).
The White Lotus Season 2 Photos
On Aug. 17, 2022, HBO revealed a bunch of photos from the set of The White Lotus Season 2, highlighting the new cast and the beautiful Sicilian locale.
Valentina (Sabrina Impacciatore) is the resort manager for the Sicilian outpost of the White Lotus.
It's a couples vacay for Harper Spiller (Aubrey Plaza) and her husband Ethan (Will Sharpe), and his friends, fellow couple Cameron (Theo James) and Daphne Babcock (Meghann Fahy).
Tanya McQuoid (Jennifer Coolidge) makes her grand return to the White Lotus alongside her new employee, Portia (Haley Lu Richardson).
Three generations of Di Grasso men — Bert (F. Murray Abraham), his son Dominic (Michael Imperioli), and grandson Albie (Adam DiMarco) — take a trip to Italy together.
Mia (Beatrice Grannó) and Lucia (Simona Tabasco) are two local Sicilians who find their way to the resort.
The White Lotus Season 2 Teaser
The first bit of footage from Season 2 came in the form of an HBO Max teaser for all of its upcoming originals, including The White Lotus. It shows a very smiley Tanya hanging on tight to her vacation love from Season 1, Greg, on the back of a moped, and brief clips of the whole cast in Sicily.
A second teaser centered on Tanya as she gushed about how much she loves staying at White Lotus resorts, and it's no surprise why with all the gorgeous Sicilian scenery being shown off.
On Oct. 6, 2022, HBO released the full trailer for the season, featuring every single one of the cast members getting into some form of shenanigans or another. While the central mystery is still a bit of, well, a mystery, if you pay attention, there's a quick flash of a body bag, which hints the new season may once again revolve around — or end in — a murder.
The White Lotus Season 2 Release Date
The White Lotus Season 2 will premiere on October 30, 2022.
This article was originally published on