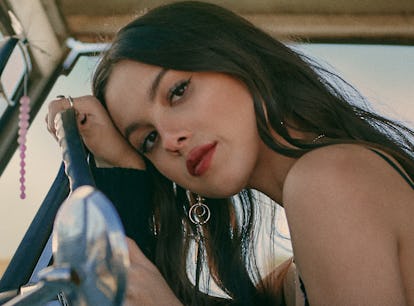 Olivia Rodrigo Dropped The Driving Home 2 U Trailer, And I've Never Been "Happier"
March 25 can't come soon enough.
Courtesy of Disney/Harper Smith
A new inside-the-album documentary for Olivia Rodrigo's hit debut album, Sour, is coming soon called Olivia Rodrigo: Driving Home 2 U (A Sour Film). The singer shared the official trailer for her forthcoming project on March 17. It teased the documentary will show both the highs and lows Rodrigo experienced while making her record, including the journey from grueling days in the studio and to Sour resonating with so many fans upon release.
From the looks of it, the documentary will be deeply personal. Driving Home 2 U will focus on Rodrigo's repeated trips between Los Angeles where she recorded her album and Salt Lake City where she simultaneously filmed her Disney+ series High School Musical: The Musical: The Series. "It was really interesting to go back and watch footage of when the songs are kind of beginning to form," the star told Rolling Stone earlier this. "I think there's magic to that creative process, and they're really fond memories in my life."
Before the film arrives, here's everything to know about Driving Home 2 U.
When will Driving Home 2 U premiere?
Rodrigo's documentary will premiere on March 25.
Where Can I Watch Driving Home 2 U?
Driving Home 2 U will stream on Disney+. Those who don't already have a subscription can sign up here.
Where Can I Watch The Driving Home 2 U Trailer?
The teaser trailer for Driving Home 2 U dropped on Feb. 17. According to a Disney+ press release, apart from Rodrigo's road trips across the American Southwest, her documentary will include songs with new arrangements. Some of the live arrangements were recorded in outdoor locations like the California's Red Rock Canyon State Park and Mojave Airplane Boneyard, as well as Roy's Motel & Café and Arcosanti.
"This is a unique film experience where for the first-time fans will understand how her album came to be and why it was such a personal journey for Olivia," Ayo Davis, president of Disney Branded Television, said in a statement.
"This is not a concert film per say, but really, an opportunity to experience first-hand how Olivia Rodrigo became one of the biggest music stars of the day – and a chance to see her perform the songs from Sour like never before," Davis continued.
A week before the premiere of Driving Home 2 U, Disney also shared the first full-length trailer for the documentary. It provided even more behind-the-scenes insights on Rodrigo's recording process for Sour.
Is There Driving Home 2 U? Art?
Of course, there's art. Alongside the trailer, Rodrigo also revealed a poster for the film, though no word of if she's releasing it in a print form. Regardless, the photo shows her at the wheel of what looks like a really cool car. Yes, I caught the subtle nod to her hit song, "Drivers License."
Who Will Appear In Driving Home 2 U?
The film will include guest performances by musicians Jacob Collier, Blu DeTiger, and Towa Bird.
See Sour come to life when Driving Home 2 U premieres on Disney+ on March 25!
This article was originally published on