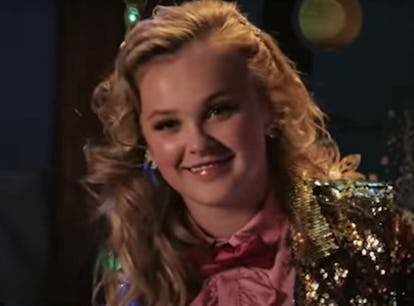 JoJo Siwa Made A Campy Splash In The HSMTMTS Season 3 Trailer
I need to know everything about her character, Madison.
YouTube
School is almost back in session at East High, and it looks like the most popular girl in class will indeed be making her return. Disney+ confirmed that High School Musical: The Musical: The Series would be returning for a Season 3 on Nov. 12, but there was still a big question mark about the show's breakout star. At the time, it was not confirmed if Olivia Rodrigo would be returning to set since she garnered so much success with her debut album Sour. However, now we know Nini will be back... although not in the same way as the previous two seasons. Here are all the details about High School Musical: The Musical: The Series Season 3 for fans to look forward to.
In a Dec. 10 interview with the Los Angeles Times, Rodrigo revealed that she would be returning to East High, squashing rumors that she may leave the show following her rapid success as a pop star. As exciting as this confirmation may be, it's got to be awkward for Rodrigo and co-star Joshua Bassett, given that many of Rodrigo's breakup tracks are rumored to be about her on-screen love interest. Bassett even confirmed the two have not spoken since Rodrigo's "Drivers License" was released in January 2021.
While Rodrigo is confirmed to return for the new season, don't expect to see a lot of Nini as the Wildcats go off to summer camp in Season 3. On March 8, Entertainment Tonight reported that Rodrigo returns only for a recurring role, a significant step back from starring in the first two seasons. The new direction comes after Nini and Ricky broke up at the end of Season 2, which doesn't seem to provide much hope that the two exes will be able to patch things up in Season 3.
HSMTMTS Season 3 Trailer
Disney+ released the first look at Season 3 on May 20. The clip shows the Wildcats settling in for summer camp at Camp Shallow Lake and reveals the return of original High School Musical star Corbin Bleu. In the clip, Bleu drops the bombshell that the musical at the center of Season 3's story will be Frozen.
The full trailer for Season 3 arrived on June 29, giving viewers a fuller picture of this summer's Frozen Fest.
The new trailer also revealed who will be directing the summer camp musical, and it's not who anyone expected.
HSMTMTS Season 3 Cast
The main stars of HSMTMTS will be back for Season 3, and they'll be joined by some exciting new faces, some of which will look very familiar to fans. The teaser shows that original High School Musical star Corbin Bleu will return to the franchise in Season 3, playing himself. Bleu starred in the original film trilogy as Troy Bolton's best friend Chad Danforth. This won't be the first time an HSM star will play themselves on the Disney+ series — Lucas Grabeel also appeared as a version of his real-life self in Season 1.
In addition to Bleu's guest-starring role, Hannah Montana star Jason Earles will also guest star as the director of Camp Shallow Lake, the summer camp at which Season 3 will be set. Meg Donnelly will play the camp counselor, Val, who is choreographing Frozen. Also, as revealed in the full-length trailer, Jesse Tyler Ferguson will guest star this season as Marvin, an old family friend of Olivia Rodrigo's character Nini. Also, JoJo Siwa joins the cast as Madison, a former Camp Shallow Lake alumni.
Adrian Lyles and Saylor Bell will join the season as series regulars: mysterious new kid Jet and rule-following techie Maddox, respectively. In addition, Ben Stillwell, Aria Brooks, and Liamani Segura will recur as guest stars: Stillwell plays cameraman Channing, and Brooks and Segura will play eighth-graders new to the summer camp.
HSMTMTS Season 3 Release Date
The third season of HSMTMTS will premiere on Disney+ on Wednesday, July 27, with new episodes dropping each Wednesday following the premiere.
This article was originally published on