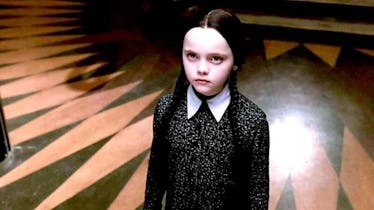 Christina Ricci Is Returning To The Addams Family In Netflix's Wednesday
Metro-Goldwyn-Mayer/Orion Pictures
Ready for something that's really neat? Your favorite sarcastic and spooky Addams family member is getting her own live-action, coming-of-age comedy. Netflix's Wednesday is an Addams Family spinoff starring Jenna Ortega and directed by Tim Burton, which means it's sure to be an instant (and probably twisted) hit.
The Addams Family has been an enduring part of American culture since the Charles Addams cartoons started running nearly a century ago in the mid-1930s. Originally meant as a satire on aristocratic life in the New York area in the post-Depression years, the series became infused with horror tropes when it moved to TV in the mid-1960s when critics routinely compared it to The Munsters. Since then, the beloved show has been adapted in various formats, including a series of hit films in the 1990s.
While Burton is the king of twisted tales, the YA series will be his TV directorial debut and his first live-action show. Additionally, this is the first time Wednesday has gotten her own project, which is a pretty big deal considering the Addams family has graced the big and small screen time and time again.
But now it's Wednesday's turn to shine solo. Here's what her fans need to know:
Wednesday Cast
On May 19, 2021, You star Jenna Ortega took to Instagram to announce she will play Wednesday Addams in Wednesday. Her caption read: "New chapter. Hope I can do Wednesday Addams justice. *snaps twice*."
Ortega is joining a long history of influential women who have portrayed the iconic character. Of the long line of those who have played the character, none is more famous than the Queen of Sass, who originated the role of Wednesday on the big screen, Christina Ricci, in The Addams Family and Addams Family Values.
Her turn in the Addams Family movies launched Ricci's career, so it wasn't the biggest surprise to learn Netflix offered her a role in the new series. In March 2022, Deadline reported Ricci signed on to be in the cast, though her role is being kept under wraps. This announcement came amid a casting shuffle during filming that saw cast member Thora Birch exit the series for personal reasons. According to Deadline, Birch had mainly finished filming her role as Tamara Novak, described as "Wednesday's dorm mother and the only 'Normie' on staff at Nevermore Academy," so Ricci's role is probably not a replacement, but a second character created to solve whatever plotline issues were left in the wake of Brich's exit.
As for the rest of the cast, Collider reported Luis Guzmán, known for such films as Boogie Nights and the Netflix series Narcos, will play Gomez Addams. He'll be joined by Academy Award-winner Catherine Zeta-Jones (Chicago) in the role of his iconic wife and Wednesday's mother, Morticia. Issac Ordonez (A Wrinkle in Time) will play Wednesday's brother, Pugsley Addams, George Burcea (Comrade Detective) has been cast as Lurch, and newcomer Victor Dorobantu is the famous expressive hand known as "Thing."
Deadline revealed Game of Thrones' Gwendoline Christie also landed a lead role, as Larissa Weems, the principal of Nevermore Academy, where Wednesday attends, and who "still has an ax to grind with her former classmate Morticia Addams." Along with her casting, Deadline revealed a slew of co-stars, including Tommie Earl Jenkins (Lupin), William Houston (The Last Duel), Luyanda Unati Lewis-Nyawo (Devs), Calum Ross (Loki), and newcomers Johnna Dias Watson, Iman Marson, and Oliver Watson.
Other co-stars who were announced as the series commenced filming in the fall of 2021: Riki Lindhome (Knives Out), Jamie McShane (Bloodline), Hunter Doohan (Truth Be Told), Georgie Farmer (The Evermoor Chronicles), Moosa Mostafa (The Last Bus), Emma Myers (Girl in the Basement), Naomi J. Ogawa (Skylin3s), Joy Sunday (Dear White People) and Percy Hynes White (The Gifted).
Wednesday Filming Updates
Filming for Wednesday commenced in September 2021. The series was initially expected to finish in February 2022, but Birch's exit upended that, and filming was extended to the end of March.
As is becoming standard for prestige TV series, all eight episodes were directed by the same person, in this case, Tim Burton, with Smallville's team of Alfred Gough and Miles Millar as showrunners. In December 2021, Deadline announced that one of Burton's longtime collaborators, Danny Elfman, who worked with him on Edward Scissorhands and The Nightmare Before Christmas, would write an original theme song for Wednesday and the series' musical score.
Wednesday Plot
While not much is known about the new show, a synopsis has been released.
Wednesday is a comedic, supernaturally-infused coming-of-age series that follows the teenage girl's years as a student at Nevermore Academy, where she attempts to master her emerging psychic ability, thwart a monstrous spree that has terrorized the town, and solve a mystery that embroiled her parents 25 years ago — all while navigating her new relationships at Nevermore.
Wednesday Release Date & Trailer Predictions
So far, there's no word on a release date or a trailer for Wednesday. With filming concluding now and probably a good deal of post-production CGI to go, it could be several months before a trailer or release date is ready. (Netflix is famous for shooting far ahead, sometimes by a full year.) At this point, Wednesday could be heading this way by the end of 2022, but chances are it will more likely arrive in early 2023.
This article was originally published on