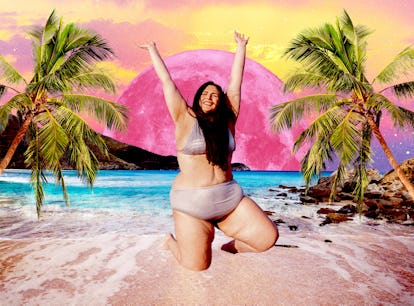 An Astrologer Built My Dream Caribbean Vacay Based On My Birth Chart
Not me, a double water sign, with allll the water activities.
Lindsay Hattrick/Elite Daily; Stocksy; Getty Images; Shutterstock
Astrology and travel are two things I love dearly, but they exist in separate universes in my mind. I think about astrology when I'm sitting at home on my phone and get a totally out-of-pocket notification from my Co-Star app; when I'm traveling, I want to turn my phone off and leave the astro memes behind for a bit. Apart from clicking on the ideal destination for my zodiac sign when it comes up on my feed, I've never thought to use my birth chart to help with vacation planning — that is, until I spoke to an astrologer who helped me see an obvious connection: If my zodiac sign, along with the rest of my cosmic fingerprint, can help me understand myself better, why wouldn't it also be a handy tool in curating my perfect getaway?
Earlier this summer, I had the opportunity to experience a three-night stay at Breathless Montego Bay Resort & Spa in Jamaica, thanks to CheapCaribbean, a booking company that offers travel packages to Mexico, the Caribbean, and Central America. Two of those days were packed with activities planned by the brand's Chief Beach Astrologer (and Elite Daily's former resident astrologer), Valerie Mesa, who came along with a group of us on the journey as part of the launch of CheapCaribbean's recent zodiac-themed campaign, where travelers can get insights and trip ideas geared specifically toward their natal chart.
I was already aware that I'm a double Cancer (sun and moon) with a Libra rising sign, so I was anticipating an itinerary with lots of time for relaxation. (They don't call Cancers cozy and nurturing for nothing.) While that was the case to some extent, there was also one full afternoon of adventure that spoke more to my previously unknown Venus in Leo. "Venus is how you have fun," Mesa informed me on the trip. So, there were a lot of different energies at play.
The self-identifying clairvoyant, of course, had the astro intel to back up all of our plans, so I put my two-day Caribbean itinerary (not to mention my *life*) in her and the excursion guides' hands. Below, you'll find my carefully curated schedule of events, along with Mesa's explanations behind the specific activities chosen.
Day 1: Water-Themed Excursions
Watery activities for a water sign? Groundbreaking (no, but really).
9 a.m.: Bamboo rafting
After arriving the previous afternoon, I joined my fellow water signs and some earth signs on the trip for a jam-packed day of exploring. Our first stop was the Martha Brae River, around 45 minutes away from the resort by bus, where we spent the morning floating down a 3-mile stretch on a bamboo raft, with a local guide pointing out the native plants and wildlife. I even tried my hand at steering from the front, which was harder than it looked. Let's just say, that's better left to the professionals.
This activity felt like an obvious choice for a Cancer; a water-themed venture that was also leisurely and allowed a quiet start to the morning. Keeping true to my nostalgic and sensitive Cancer nature, I wanted to snag a souvenir while we were off the resort and in a more rural spot to remember the experience. I walked away with a hand-carved calabash (a gourd with the insides scooped out, dried, and carved with designs of native birds and plants) made by our guide.
12 p.m.: Waterfall climbing
Our next stop, which was one hour away by bus, was a completely different vibe: climbing the Dunn's River Falls in Ocho Rios, Jamaica — and I literally mean climbing. We were scaling slippery rocks, crawling under a bridge, and at times walking in neck-deep water. I did not expect this after the easy morning we'd just had, and I wouldn't recommend it to someone who wants to avoid a lot of physical exertion. (Pro tip if you go: Water shoes are a must, and you'll need a plastic case for your phone if you plan on bringing it for photos.)
It turned out this morning and afternoon of opposites made so much sense for me, astrologically. During my one-on-one with Mesa, she pointed out the importance of cultivating balance when I travel. "I'd always look at your moon and Venus [when planning your trips]," she suggested. Your sign for the planet of love and beauty is how you find pleasure, while your moon sign shows "how you feel safe and what brings you comfort." In my case, my Venus is in go-getting Leo, and it's the only fire element in my birth chart. The adventurous (and very exhausting) afternoon definitely pushed me out of my comfort zone, but it also gave me the chance to cultivate that fire energy.
2 p.m.: Late lunch
Before heading back home on the bus, we needed some sustenance. The only thing I'd eaten prior to our excursions was a bowl of fruit and a large cup of Jamaican coffee (delicious, BTW). Our group stopped for authentic Jamaican jerk cuisine at Scotchie's restaurant, which was chosen by our excursion guides because it's a popular local favorite, and jerk is the No. 1 thing to get in Jamaica. I don't eat meat, so I didn't sample the main course (jerk chicken and pork), but there were plenty of vegetarian options like beans and rice, sweet potatoes, and fry bread. Everything was sooo flavorful. This actually turned out to be my favorite meal of the trip, without question.
3 p.m.: Naptime
After lunch, we hopped back on the bus for the nearly two-hour journey home, where most of us took a snooze after the long day and hearty lunch we'd had. When I got back to the resort around 4 p.m., I took some additional time to lie down, then showered and changed into a sundress for the evening.
5 p.m.: Dinner & drinks
I got dinner at the resort with some new friends from the trip, then headed to my room to rest and reset. Cancers are homebodies, remember?
Day 2: Relaxation For Balance
My birth chart basically begged for the chance to get some quiet time.
9:30 a.m.: A morning massage
Day Two was all about recharging, which I definitely needed after the previous day's activities. I started my morning at the Secrets Montego Bay spa, where I got a relaxation massage. Every person on the trip had a different treatment chosen by Mesa, from seaweed wraps to hydrotherapy. Based on the dominance of water in my chart — which means I'm intuitive, perceptive, and ruled by emotion — I'm not surprised I got the most relaxing treatment of the bunch. It's a tough job, but someone's got to do it.
11 a.m.: Beach day
To continue with the more chill vibes, I spent the majority of the afternoon reading at the beach and hanging out with a friend from the trip. I was happy to get some alone time (plus a solid one-on-one friend chat) after a few days of socializing, which is apparently also very much in line with my astrological chart. According to Mesa, my chart reflects the desire to unwind. "Your chart is completely dominated by water [...] then you have this fire Venus that wants to explore and have fun," she told me. "But your Jupiter in Scorpio also needs privacy." Scorpio is ruled by Pluto, the planet of transformation and regeneration, which is square to my Venus in bold and ambitious Leo. "There's this duality to you — privacy for you is safety, but at the same time, there's this desire to take risks."
One day of waterfall scaling, one day of curling up with a novel at the beach? My Venus in Leo and Jupiter in Scorpio both got time to shine.
5 p.m.: Naptime
After hours of lazing in the sun and reading, I peeled myself out of the beach chair to head back to my room, shower, lie down again (sorry not sorry), and get ready for dinner.
7 p.m.: Beach photos and rooftop dinner
For the final evening, I wore my pink SKIMS dress in honor of Barbie and my birthday month. Since the sunset was unreal, my new friends and I stopped to snap some pics at the beach right next to the resort.
We wrapped up our trip with a goodbye dinner at Altitude, the rooftop restaurant at Breathless. CheapCaribbean's team chose this spot to showcase the dining options at the resort, and the staff members, all locals, were absolutely delightful. We ate family-style appetizers — salad, bread, wraps, and other light dishes — and I had a vegetable pasta for my main course. The servers brought us literal bowls of chocolate for dessert and sang happy birthday to Mesa, a fellow Cancer queen, who was celebrating her big day that week. 10 out of 10 all around.
Overall Experience
Though there were so many fun components of my zodiac-based trip, the parts that stood out to me were the moments I got to truly experience the Jamaican culture (I'm still living for Scotchie's) and connect with the locals, including the rafting tour guide and the incredibly kind resort staff. According to Mesa, this desire to really immerse myself in a place, once again, circles back to my Jupiter in Scorpio, which sits in my first house of self. "You want experiences that feel transformative and fulfilling, and you want there to be soul," she said. "Jupiter in Scorpio has that desire to plumb through the depths and see what's below the surface. Traveling is a spiritual experience for you."
This trip showed me that astrology can offer a lot of insight into travel — specifically how to structure plans to align with my values and interests. I normally wouldn't have booked a day of opposites like Day One. Historically, I've either gone full relaxation mode or full adventure mode on my vacations, but I have to say I liked the balance of both; it felt like just the right amount of activities without being too tiring. Plus, I'm extremely here for the downtime we got in the afternoons. (Note to self: Plan naptime into future vacays. It's crucial for rejuvenation.)
My Saturn return is just beginning, which Mesa hinted might mean more responsibility in my work life moving forward. That means I need to be extra intentional about planning travel that lets me get a spiritual reset. I'll absolutely be trying more zodiac-inspired vacays moving forward — rock scrambling optional.