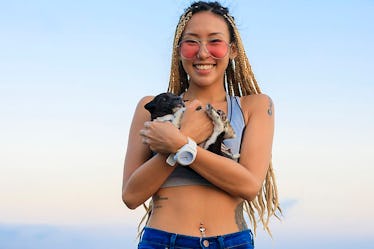 Jupiter, The Planet Of Luck, Just Moved Into Scorpio To Change Our Lives For The Better
Stocksy/Felix Hug
Jupiter is what's known in astrology as an outer planet, meaning its movement is felt not necessarily on a day-to-day level, but more so on a thematic level. When you look back over your life and you remember a particularly good year, it could be Jupiter's influence. Similarly, Pluto is an outer planet, meaning when you look back at a rough (yet transformative) couple of years, it would be Pluto's influence. But on Oct. 10, 2017, Jupiter moved into Scorpio to stay there until Nov. 2018, bringing luck, expansion, personal growth, and improvements not just personally, but on a material level. Jupiter in Scorpio gifts tend to be the kind you can see, hear, feel, and touch with your hands, and we love those, amirite?
Astrologically speaking, the energy of Jupiter and the energy of Scorpio are very different. While Jupiter's energy seeks change outside of itself, Scorpio is all about diving deep under the surface of things to purge the demons from our souls and mine for gold within. So when Jupiter moves into Scorpio, it makes this kind of work a lot more lighthearted and optimistic, and can improve our willingness to do whatever it takes to make growth possible.
Here's how Jupiter transiting Scorpio will affect each sign, until Nov. 2018.
Aries- Your Sex Life
Jupiter's transit through Scorpio places it directly in your eighth house, which rules sex, your intimate life, and coincidentally enough it's also the house of "other people's money," so there is a chance that you could relieve yourself of some debt, or come into some money through an inheritance. But mostly, what you have to look forward to for the next year is a deeper, richer, more satisfying sex life. Sounds good, huh?
Taurus- Your Partnerships
Jupiter's transit through Scorpio places in your seventh house of marriage, contracts and partnership. It's highly likely that you could get married or engaged sometime in the next year, or meet someone with whom you're likely to spend the rest of your life with.
If you're already married, this partnership could come in the form of a business alliance, like an agent, publisher, or business partner.
Gemini- Your Health
Jupiter's transit through Scorpio places in your sixth house of health (physical and psychological) and daily responsibilities. You're likely to undergo a change or expansion in the amount of work you take on, and you're highly likely to enjoy it more during this period, which will benefit your health and your mental health in kind, as long as you're careful not to take on too much all at once.
Cancer- Your Self-Expression
Jupiter's transit through Scorpio places in your fifth house of creativity, romance, and playfulness. This is the house of theatricality and joy. In the next year, you'll have an easier time just cutting loose and really allowing yourself to have an incredible time, and outwardly voicing your appreciation for everyone in your life. This will pay you back ten-fold, as the more open you become the more positive people you'll draw toward you in your life to lift you up and help you grow.
Leo- Your Home Life
Jupiter transiting Scorpio is bound to benefit your fourth house of home, family, and living arrangements. If you've been thinking about moving or buying a home, now is the time to do it. Not only will you love the new arrangement, but because Jupiter is the natural ruler of your solar fifth house, you'll find your new home base and everyone in it to naturally support your creativity. You might even make a new hobby out of decorating your space. Try not to spend too much money on home improvement, Jupiter can lead to overspending.
Virgo- Your Communication
Jupiter transiting Scorpio affects your third house of communication, short distance travel, technology, and media. If you've ever thought about starting a blog or writing for an online publication, now is your time to shine in that industry. I know Virgos want to turn their work into money, and this is your moment. Your words have power, and your point of view will be valued. You already have a gift for instructing others on how to make improvements, now all you have to do is get that advice on the interwebs.
Libra- Your Income
Jupiter's transit through Scorpio will land right smack into your second house of earned income and material possessions. As this transit approached, you've been feeling like you finally truly deserve everything you want in your life, and you'll be willing to go after it with zeal. Over the next year, you'll be making enough money to establish the kind of security and balance you've been longing for in life.
Scorpio- Your Personal Desires
Jupiter transiting your sun means that you are the lucky sign of the year! Having Jupiter in this house brings to life many of your most personal desires. If you've been working on a personal project, laboring for a long time to make one of your personal goals a reality, well, now is the time you can expect to see the fruits of your labor, and not only that, but watch them multiply. You'll have everything you want so long as you are careful not to over-celebrate. (Jupiter can lead to some heavy drinking.)
Sagittarius- Your Spiritual World
Jupiter's transit through Scorpio lands in your 12th house of spirituality. For this next year, the amount of success you achieve will depend more on internal matters than external ones. The more you dive into your own relationship to spirituality, the more you will watch your material, physical world expand along with your perspective. So GET MEDITATING, Spiritual Warrior!
Capricorn- Your Associations With Others
Jupiters transit through Scorpio is placed in your 11th house of friends, group associations, and organizations. If you've been trying to fundraise for a work project or to grow your network, the next year will provide you plenty of opportunities to do that. If you've recently moved and have had trouble connecting with others to make yourself really feel at home, you can plan on this year bringing you some of the best friendships you could possibly want.
Aquarius- Your Career
Jump for joy, baby, because Jupiters transit through Scorpio is landing in your tenth house of honors, fame, and career achievements. You are about to be showered with opportunity, with money, and with a shift in your status when it comes to your position in your industry. People will be seeking you out so much you won't know what to say no and yes to, so be careful not to spread yourself too thin.
Pisces- Your Adventures
Jupiters transit through Scorpio lands itself in your ninth house of adventures and higher learning. Your outlook this year will be positive, and you'll feel a deep need for change, for spontaneity, and for new experiences. Try to think of this year as one where you will use everything you learn to situate you in the best position possible when Jupiter moves into your tenth house (see above) as your career takes off in November of 2018.