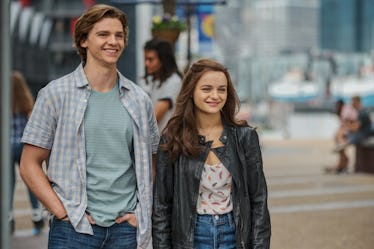 Brush Up On Your Kissing Booth Knowledge With These Behind-The-Scenes Facts
Can Joey King be *my* best friend?
Netflix
July 24 was one of the most exciting days of summer 2020, thanks to The Kissing Booth 2 dropping on Netflix. The highly anticipated film, based on the young adult series by author Beth Reekles, follows lifelong best friends Elle (Joey King) and Lee (Joel Courtney) as they navigate relationships, high school, and planning their futures. While die-hard fans already have both The Kissing Booth and The Kissing Booth 2 memorized, these behind-the-scenes facts might just shock even the most dedicated viewers.
Warning: Spoilers for The Kissing Booth 2 ahead. Throughout the first film, Elle started secretly dating Lee's older brother, Noah (Jacob Elordi), and Lee got together with Rachel (Meganne Young). The second film picked up soon after Noah left for Harvard, leaving him and Elle to figure out whether they could navigate a long-distance relationship, and Lee to learn how to balance his time between his BFF and his girlfriend. If that wasn't tricky enough, adding two new, super-hot people — Chloe (Maisie Richardson-Sellers) and Marco (Taylor Zakhar Perez) — to the mix made it rom-com magic.
With the third movie slated for an Aug. 11, 2021, release, fans have a few months to blast the soundtrack, follow their fave stars on Instagram, and theorize about who, exactly, Elle will end up with for good. And if you've done all that, here are some more details about The Kissing Booth 2 to memorize before the third and final film comes out:
The Kissing Booth 2 is on Netflix now.
This article was originally published on