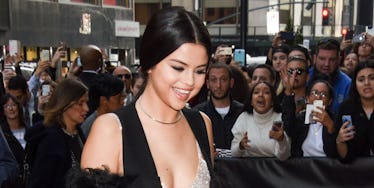 Here's Everything You Missed At Last Night's Grammy Awards
Getty Images
On Monday night, music lovers everywhere gathered to watch the 58th Grammy Awards. There were a total of 75 winners leading up to the live show at the theater, and eight winners were announced live.
If you weren't glued to your TV for the more than five hours of coverage, or if you were one of the many disappointed people who fell victim to CBS's live stream fail, never fear!
We compiled a SparkNotes version of the entire night so you can keep up with office chatter this week and attempt to understand all of the memes/tweets currently flooding your social media feeds.
Here's everything you missed at the 2016 Grammys!
Taylor Swift won the first Grammy of the night (before the ceremony even started), and her and Selena Gomez slayed friendship goals as each other's dates on the red carpet.
The "Bad Blood" music video, which featured both celebs, won for Best Music Video during the live telecast, and Taylor posted a video to show just how excited they were.
She also gave an informal acceptance speech for her acceptance of Best Pop Vocal Album, shouting out her thanks to James Taylor
Taylor's abs were a sight to behold, but no one could stop talking about her new bob and bangs... or comparing her to literally everything.
Justin won his first Grammy ever, and Selena Gomez had nothing but nice things to say.
The Biebs' "Where Are Ü Now" took home the prize for Best Dance Recording, and Selena Gomez graciously threw praise at her ex, saying she was "very happy for him."
In other Bieber news, Justin's little brother completely stole everyone's heart walking the red carpet.
Kendrick Lamar sent a hugely powerful message with his epic performance.
Kendrick Lamar's album, To Pimp A Butterfly, which won Best Rap Album, provides emotionally-charged commentary on some of the most prolific problems in today's society. His performance at the Grammys was nothing short of incredible, and even the White House had a response.
Demi Lovato's tribute to Lionel Richie won the Grammys -- even though she wasn't nominated.
Several artists -- including John Legend, Meghan Trainor, Luke Bryan and Tyrese -- took the stage to honor Lionel Richie. But, it was Demi belting out Richie's "Hello" who sent chills through the audience.
The cast of "Hamilton" performed and stunned everyone. Seriously, you're going to want to watch the clip over and over.
Hamilton took home the award for Best Musical Theater Album, and if you saw the live stream of the cast's performance, you'll understand why. The Broadway performance actually took place at Richard Rodgers Theatre in New York City on Monday night, but it was streamed live at the Grammys.
Lady Gaga gave an incredible performance -- filled with some mind-blowing special effects -- to honor David Bowie.
Lady Gaga got a tattoo in memory of David Bowie on Saturday, and on Monday night she wowed the crowd with a heartfelt tribute to the legend.
Her performance was certainly memorable and chockfull of robotics, interactive videos and incredible digital effects, all of which she pulled off through a special collaboration with Intel.
Adele suffered technical difficulties during her performance. The Internet freaked out. She didn't.
Everyone was waiting for the "Hello" singer (well, the other "Hello" singer) to grace us with her angelic voice, but while we were watching with tears in our eyes as she sang "All I Ask," there were a few seconds -- that felt like an eternity -- where the sound cut out.
Being the classy lady she is, Adele reminded us all:
Sh*t happens.
Finally, Taylor Swift won Album of the Year and gave a passionate speech that threw complete shade at Kanye West.
Taylor won Album of the Year for 1989, and not everyone was thrilled. It was her speech, though, that got people talking as she not-so-subtly pointed out Kanye had nothing to do with her fame and success. As he wasn't there to grab the mic, she was able to say,
There are going to be people along the way who will try undercut your success, or take credit for your accomplishments, or your fame.
There you have it. Those were the big moments you'll need to know if you want to pretend you stayed up all night watching the Grammys this year. You'll also be ready in case Kanye decides to go on another Twitter rant in response to, well, anything.