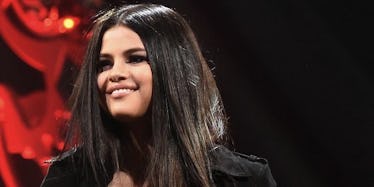 BFFs Taylor Swift And Selena Gomez Accept 'Bad Blood' Grammy Together
Getty Images
It's finally time for the Grammys and we couldn't be more excited.
If you haven't already grabbed your popcorn, I suggest you do that immediately.
After all of that Taylor Swift and Kanye West beef, you know sh*t's about to go down.
It looks like things are already heating up, because Taylor Swift is dominating.
Not only has she (so far) won Best Pop Vocal Album for 1989, but she also just won Best Music Video for "Bad Blood" co-starring BFF Selena Gomez.
The two freaked out together over the win and posted this video to Instagram:
The caption reads,
We just won a Grammy for the Bad Blood music video and we are NOT OK.@selenagomez
Taylor Swift and Selena Gomez will be sitting side-by-side during the show, so I'm sure we'll get to see them dance the night away together.
All I know is that winning an award with your BFF is 100 percent #SQUADGoals and I'm extremely jealous of this friendship.
Congratulations, you two!
To make this night even more enjoyable for you, we have the official list of winners here and will keep it updated throughout the night. We're also live-tweeting the event on @EliteDaily and providing our thoughts on Snapchat (elitedailysnap), so be sure to follow along.