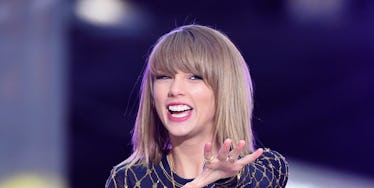 Taylor Swift Wins First Grammy Award Of The Night, Immediately Thanks James Taylor
Getty Images
The 2016 Grammy Awards kicked off at 12:30 pm PST on Monday, February 15 with the first category of the night, Best Pop Vocal Album. Taylor Swift was named winner for 1989, beating out Mark Ronson for Uptown Special, James Taylor for Before This World, Kelly Clarkson for Piece By Piece and Florence & The Machine for How Big, How Blue, How Beautiful.
Since T Swift will be opening the live telecast on CBS at 5 pm PST / 8 pm EST, Jack Antonoff accepted the award on her behalf. Antonoff, Lena Dunham's boyfriend, called Taylor from his cell phone to deliver the good news.
Tay was elated on the other end of the phone, but took the opportunity to give fellow nominee James Taylor a special shoutout.
TSwift on the phone: "Is James Taylor there? Can you tell him I love him? Can somebody who knows James Taylor tell him I love him? #GRAMMYs — Kendall Wood (@_kendallwood) February 15, 2016
In true Taylor Swift fashion, she turned the attention to someone else when it was her time to shine.
Rest assured, however, there will be many more opportunities for Taylor to have her big moment at the 2016 Grammys, as she ties for the second-most nominated artist this year alongside The Weeknd, with seven total nominations.