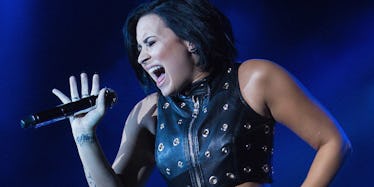 Demi Lovato Just Won The Grammys, Everyone Can Go Home Now
Getty Images
She might not have won any awards on Monday night, but Demi Lovato totally won hearts around the world thanks to her outstanding performance at the 2016 Grammy Awards during the tribute to Lionel Richie.
Several performers honored the legendary musician with a medley of his music, including John Legend, Meghan Trainor, Luke Bryan, and Tyrese.
But Demi blew them all out of the water when she flawlessly belted out Lionel's famous hit, "Hello."  (As in, "Is it me you're looking for?" and not as in, "It's me.")
Like DAMN, I knew that girl could sing but I didn't know she could sing LIKE THAT. The song has some serious high notes and Demi hits every single one expertly.
Even Lionel in the audience was like, "Girl, yaaaaaaas!"
The other performers who paid tribute to Lionel were nice too, but now I really just need a full version of Demi covering "Hello." Seriously, can we bring her back to the stage please? That was the best thing I heard all night.
Watch a clip from her amazing performance below: