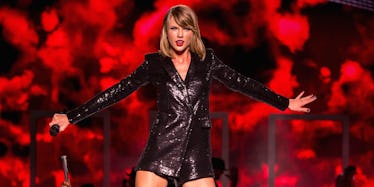 Taylor Swift Won Album Of The Year, And People Are Not Happy
Getty Images
On Monday, Taylor Swift solidified her status as "queen of the awards" by taking home three new Grammy Awards to add to her already ridiculous collection of accolades.
But it was the last award she won, Album of the Year, that left a very bad taste in the mouths of many.
Taylor was up against beloved rapper Kendrick Lamar. Lamar's album, To Pimp A Butterfly, is not only loved by fans and critics alike for its strong social message, it was also chosen as President Obama's personal favorite album of the year.
But still, it couldn't top Taylor's album about heartbreak.
Taylor took to the stage to accept her award, where she quickly threw shade at all the non-believers who try to steal her thunder (aka Kanye West).
Nobody is saying Taylor doesn't deserve strong praise for her writing, producing and singing talents. She is a talented one, no doubt, but according to Twitter, Taylor should have walked home empty handed. The award, many on social media said, should have gone to Kendrick.
Check out a few of the swift reactions on Twitter below.