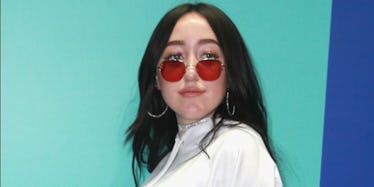 Celebs That Are Perfect To Replicate For Your Halloween Costume This Year
Getty Images/ Rich Fury
Believe it or not, Halloween is just around the corner. If you're like me, every year you vow to have the most kickass costume of all time only to fall short. Then, you're forced to look super lame by throwing on a pair of animal ears before heading to the bar. I'm a mouse, duh. End the cycle this year by dressing like an iconic celebrity. These easy celebrity Halloween costumes will help to step up your game so, so hard. Honestly, you're welcome.
It's a great conversation starter and so fun to passionately shout calmly tell people about your favorite celeb moments. Another pro is that many of the items you can find at a thrift store or already in your closet, unlike that Poison Ivy costume you've been trying to put together with some green pipe cleaners and shoelaces. Yeah, I've been there, too.
The first rule about dressing like a celeb: It's all about confidence. If you want to be Kylie Jenner for the night, then you better work it like Kylie Jenner. With that piece of advice, below are 11 celebrity looks that you can easily pull off this Halloween.
1. Look bright like Kylie Jenner at Coachella.
Kylie Jenner changes her look all the time, but her Coachella style is unforgettable. Pair your favorite little cocktail dress (bonus points if it's a nude color) with a highlighter-green wig. Get the full Kylie look by using some root cover-up powder or spray to create the grown out roots. Nice touch, huh?
2. Go full Gaga with an easy Joanne look.
This costume is so, so easy. Put on a pink, wide-brimmed hat and, boom, you're Lady Gaga as Joanne. Try pairing it with dazzling underwear like the pic above, or go for denim shorts and a white crop-top. Both would be adorbs, and much easier than reliving her meat dress moment.
3. Literally win Halloween as Joe Jonas.
I honestly think I am going to go out as Joe Jonas for Halloween. Isn't his mustache he amazing? All you need for this costume is a stick on mustache (or grow your own, do you) and an outrageous suit. I bet you could find a very Joe-approved blazer at your local thrift store. If Joe Jonas' mustache doesn't get you laid on Halloween, I really can't help you.
4. Easy and casual Noah Cyrus costume.
Noah Cyrus has really developed a signature style. Not only would it be cute to rock as a Halloween costume, you could probably transition it to your everyday life. Pair your favorite thigh high boots (guarantee your friend has a pair if you don't) with an oversized sweatshirt. The key to bring the look together is her round, rose-colored sunnies.
5. Show a little skin as Kim Kardashian.
As much as we would love to imitate Kim K's signature pinky-nude latex dress (like SO BAD), I do not have the time or budget to make it happen. A good compromise is this iconic Gucci bra and blazer look. It's sexy and memorable, plus you probably have these items in your closet. It's Halloween, most people will be in their bras anyway.
6. Dance all night as Lorde.
Lorde's VMA performance was... interesting. Whether you loved or hated it, her look was memorable. All you need is a fresh pair of Adidas, grey jeans, and a grey fluffy dress. Take scissors to a thrift store dress or use a strapless grey top with matching tutu (check the Halloween store for cheap ones). Start brushing up on your interpretive dance to pair with this costume.
7. Be low maintenance as a "Kardashian arm."
This will be the easiest costume ever. Transform you regular arm into a canvas for all Kardashian cosmetics. Simply swatch your arm with your favorite lipsticks or bronzers. BAM, Kardashian arm. So fetch.
8. Couple costume alert — DJ Khaled and Asahd Khaled.
DJ Khaled and son, Asahd, would be an adorbs costume to do with your kid (or a short BFF?). Dress up in identical, old-school sweat suits or funky blazers. Add glitzy watches and chains for a finishing touch. Major key.
9. Look what you made me do.
The risk with this costume is wondering how many other Taylor Swifts you'll see on Halloween night. Get yourself an oversized Tiger-face hoodie, some bright-ass boots, and an attitude problem to transform into T. Swift. The cat mask and gold bat would be an unreal addition.
10. Become a unicorn as Blac Chyna.
So. much. yes. Blac Chyna's rainbow hair DGAF. If you have the best hairstylist on earth or find an amazing wig — prepare to have the best Halloween ever. You also have permission to yell, "ARE YOU STILL TEXTING B*TCHES, YES OR NO?!" Ugh, the best.
11. Get in the game as Katy Perry.
Take some inspo from Katy Perry in the "Swish Swish" music video. Get your best Tigers basketball gear and do you. Don't forget the armbands.
If your friend has a sexy, black bodysuit — you just found your Nicki Minaj. You can easily convert a visor into cool, futuristic shades.
I hope these 11 costumes inspired you to strive for a better Halloween. You really can't go wrong as a celeb. Besides looking amazing, I promise you will feel super confident.