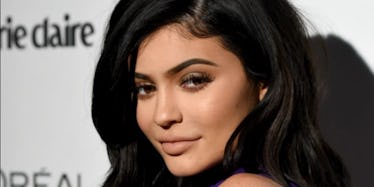 These Reviews Of Kylie Jenner's Birthday Collection Will Make You Rethink Buying
Getty
Everything that glitters is not always gold. Kylie Jenner dropped her "#KylieTurns20" birthday makeup collection on Aug. 1. People had to wait on the edge of their seat for 3 p.m. PT to spend their hard-earned money on the newest Kylie collection. However, some reviews of Kylie Jenner's Birthday Collection are less than raving. This makes the big question — is it worth the price?
The big drop comes with an even bigger price tag. A couple of days before the release, Kylie Cosmetics was considerate enough to list out the prices. Your future itemized bill would look like this:
Lip Kit: $30 Matte Mini Kit: $36 Velvet Mini Kit: $36 Birthday book: $54 Each lip gloss: $15 Each Ultra Glow: $14 Limited edition birthday vial: $60 Makeup bag: $36 Makeup brush set: $30
You can get the bundle for $175 on the Kylie Cosmetics website. For you bargain hunters, you would actually be saving $25 if you bought the bundle versus purchasing each item separately. The bundle includes:
Twenty Lip Kit Matte Mini Kit Queen Ultra Glow Birthday book Cupcake Lip Gloss Cherry Pie Lip Gloss Makeup bag
Kylie Cosmetics has either dropped its prices a tad bit or just started putting fewer products in the bundle. The "Vacation Edition" bundle that dropped on June 15 sold for $250 a pop. Before that, Kylie's Valentine collection, where she introduced Kyshadow, was available for purchase on Feb. 2 and went for $200 a bundle. So... that's something.
While beauty vloggers absolutely rave about many of the products from Kylie Cosmetics, her newest collection has some people questioning if it's worth the hefty price tag.
A lack of variety may make you rethink the bundle.
In the video above, makeup YouTuber Kelsey Alfred compares "#KylieTurns20" to the Valentine's Day collection. Her argument is that both collections are within the same color range, and she was hoping to see something new. Plus, in the makeup world, nudes, browns, and golds rule — there's no room for a pink eyeshadow palette in Alfred's world. She spoke about purchasing the entire Valentine's Day bundle, but only uses the lip kits from it on a regular basis.
It should be noted that she didn't have the product in hand, but spoke about why she won't be purchasing it.
Consider buying some of the products, but not all.
This in-depth review from grav3yardgirl (Bunny Meyer) features swatches and reviews about each product in the collection. In addition, her entire makeup look in the video was done with '#KylieTurns20' products, brushes and all. The most exciting news to me was that the glitter does not come off the packaging when you rub it. Seriously, whoever invented glitter that stays in place should win some sort of award.
If you watch the whole video, you can see each product up close and personal. At the end, she calls the brushes, palette, and Ultra Glows the "stand outs." However, she also notes that this collection has a similar look to the Valentine's Day one.
Cute packaging, but a few notes for buyers.
Jaclyn Hill is one of my favorite beauty vloggers. I frequently buy products she recommends and am usually very happy with them. So, I take her opinion seriously. She unwrapped her personal "#KylieTurns20" collection on Snapchat and did swatches with each product.
While she gushes about the package detailing and cute designs, she does mention that she hates pink. For all you pink-haters, this collection basically punches you in the face with pink.
Hill is known for loving the lip products from Kylie Cosmetics and the creamy formula of the eyeshadows. She did have two notes that potential buyers should keep in mind.
First, the highlighter that comes in the "I Want It All" palette is best suited for darker skin. Hill said if you have a fair complexion, this highlighter will probably not show up. Second, the collection features two different Ultra Glows — "Queen" and "King." Hill has tried and loved this product in the past, but something was off. While "King" is the same buttery consistency she likes, "Queen" reportedly feels grittier and less luxurious, according to Hill. Keep in mind, "Queen" is the Ultra Glow that comes in the bundle.
Also, I've watched the video a couple of times and I think she describes the eyeshadow "1942" as a "pukey brown." That's not good, right?
If you want to try out the newest Kylie Cosmetic launch, I don't blame you. I'm a sucker for pretty, sparkly, and new. You'll have to act fast. Kylie's products are known for selling out lightening quick. Like, less than two hours after launching fast.
Overall, if buying the bundle will put you and your bank account in a quarter-life crisis, most of the early reviews say to stick to the products you know and like. Maybe now is the time to skip the bundle and grab one of the must-have pieces. You get a little bit of Kylie without breaking the bank — a win-win. Happy shopping!