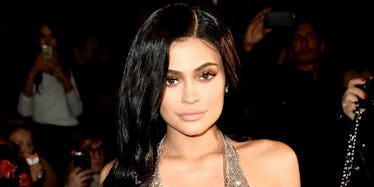 Here's Everything We Know About Kylie Jenner's Birthday Makeup Collection
Getty Images
Every year, Kylie Jenner rings in her birthday in a big way. She's giving us all a chance to celebrate the big 2-0 with a very special Kylie Cosmetics drop. Her birthday collection, properly named "#KylieTurns20" will be available for purchase starting August 1, but you'll have to act fast. Here is everything you need to know about how to buy Kylie Jenner's birthday makeup collection.
Jenner unveiled the new collection on her Snapchat, and it has a different look than we are used to. Instead of the edgy dark colors, Jenner's entire birthday line is pink and dripping in sparkles. As her eyeshadow palette states, "I want it all."
Do you love? The kit contains: Four brushes, eight mini lippies (four in velvet, four in matte), two ultra glow highlighters, one lip kit, two glosses, a gigantic eyeshadow palette, a makeup bag, and special gift. Jenner revealed the special gift was a bedazzled liquid lipstick. Gorg. I'm literally drooling. Seriously, how cute is this collection?
There's no price set, yet. If it's anything like the "Vacation" collection, you will be able to buy items separately, as well. Kylie Cosmetic drops are notorious for selling out fast — like pretty much instantly. When the KKW x Kylie Cosmetics launch happened, they were snatched up in less than two hours. There's always hope (but no promises) Jenner could restock.
Since this is a very exclusive birthday collection, it's probably best to get it while the getting's good. The launch is happening on August 1, promptly at 3 p.m. PT. You can order online on the Kylie Cosmetics site.
So how is Kylie going to ring in the big day? Obviously something fabulous. When she turned 19, she celebrated in a $50 million mansion in Turks and Caicos. I'm sure you still remember all the bikini pics?
Well, happy (almost) birthday to Kylie Jenner. Her new beauty line looks so amazing, and very Kylie. Can't wait to get my hands on one. RIP bank account.