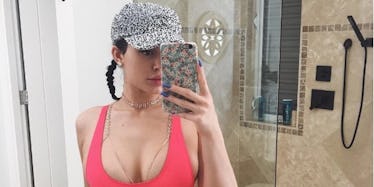 Kylie Jenner Spent Her 19th Birthday At An Insane $50 Million Mansion
Instagram
Kylie Jenner's house only cost her $6 million. While that's fine for everyday living, it might as well be a pile of wet sticks when it comes to hosting a birthday extravaganza.
Luckily, the reality TV regular and social media superstar had an alternate option for her 19th birthday celebration.
Ky and Co. stayed on a six-acre, three-home, 23-bedroom compound in Turks and Caicos valued at $50 million, according to E! News.
The 35,000-square-foot property at the Pearls of Long Bay Estate features an enormous gym, tennis court, sauna and two different private pools for partygoers to choose from during their stay.
It looks like Kendall Jenner had a whole freaking villa to herself during their stay, courtesy of Airbnb.
Kylie lounged on white sand beaches.
She and BFF Jordan Woods sunned themselves on the bow of a big-ass boat.
EVERYONE RODE HORSES THROUGH CRYSTAL BLUE WATERS, OK?!
One of these days, Kylie is going to invite all of us along with her on one of these luxury getaways. When that day comes, we'll finally know how it feels to not wear pants for four straight days in a sexy vacation way, not a can't-afford-AC way.
Citations: Inside the $50 Million Airbnb Estate Kylie Jenner Called Home During Her Birthday Getaway (E! News)