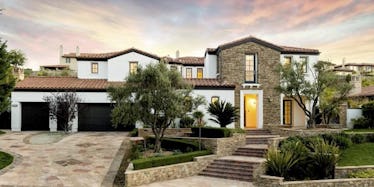 Kylie Jenner's Home Just Went On Sale, So Now You Can Live Like A Kardashian
Forbes
So how much do you have saved up in your bank account? If it's anywhere near $3.9 million, you might be able to buy Kylie Jenner's home in Calabasas because it just went up for sale.
Yup, King Kylie is moving on... to a bigger mansion, of course.
She just purchased a new home in Hidden Hills, which cost her a neat $6.025 million. I bet her new neighbors will be stoked to live next to the young makeup mogul.
This first home of hers, which she bought last year for $2.6 million, is two stories and has five bedrooms, six-and-a-half bathrooms and a movie room. Oh, and of course it has a swimming pool, built-in barbecue, wet bar and a spa.
The master suite of this fabulous home puts all of our own bedrooms to shame because it includes a walk-in closet, a sitting room and a separate closet for accessories.
Let me repeat that: a separate closet for accessories. I'm going to safely assume that her accessory closet is bigger than some apartments in New York City.
It's insane to me that this 18-year-old has owned more houses than I have (which is zero), and I couldn't even afford to buy a small apartment in the middle of nowhere right now.
As her first home doesn't sound luxurious enough, Kylie's new place is definitely an upgrade. Her new home has 7,000 square feet of interiors and the necessary basics: six bedrooms, seven full bathrooms, a swimming pool and a covered patio. It comes on a 4.5-acre lot. Damn, Kylie. Where are you going to move next year? Your own island?
I wouldn't be surprised.
Here are some shots of her old home (camouflaged as selfies), just in case you're interested in buying.
This couch probably costs more than my apartment.
Yeah, this definitely doesn't look nice enough.
On to bigger and better, I guess!
Citations: Kylie Jenner puts her glammed-up starter home in Calabasas up for sale (LA TImes)