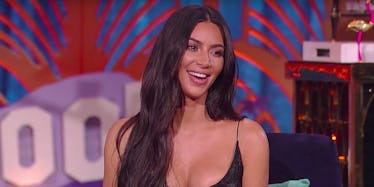 5 Popular Beauty Vloggers Who Put Kim Kardashian's Contouring To Shame
YouTube
The world hasn't been the same since June 21, when Kim Kardashian launched her KKW Beauty line. This line is hot and sold out almost instantly.
There have been rumors about beauty review drama between Kim Kardashian and YouTuber Jackie Aina. Some people thought Kardashian intentionally didn't tag Aina in retaliation of her lukewarm review, but Kardashian clarified in a series of tweets she didn't mean to throw shade.
While Kim K's beauty line is so hot right now, she's got nothing on these mega-popular beauty vloggers who have been in the game for years.
These girls have hustled hard and have huge influence over the cosmetic world, so check them out. Bonus: I added my favorite tutorials in here, too.
1. Jaclyn Hill
I freaking love this girl. She's so cool and funny, and I wish she was my friend. With 4.2 million subscribers, I'm not alone. I constantly watch her vids for inspiration. She also does frequent (honest) reviews and swatching to show off new products. She previously worked for MAC, so she knows what she's talking about.
2. Marlena Stell
This is the woman behind Makeup Geek. I love her because she always has super easy tutorials and she's so empowering. She's extremely open about her own struggles in life and has a great sense of humor. According to Style Caster, Stell used to be a teacher. That explains why she's so good at tutorials. She has 1.4 million subscribers who love following her on the journey.
3. Dulce Candy
This girl is so adorable and her makeup tutorials are fire. She also does great lifestyle vlogs where she talks about her marriage and life. With 2.2 million subscribers, she has a big slice of the beauty pie.
4. Laura Lee
It's hard to beat the energy Laura Lee has on camera. Her bubbly personality makes her tutorials so fun to watch.
She was actually one of the beauty vloggers invited to the KKW launch party. Lee has 3.1 million subscribers on YouTube, so she's an awesome connection to have in the beauty world. She got to meet Kim and took home her own contour kit. In the video above, I think she gives a really fair and honest review of the product.
5. Nikkie Tutorials
This chick is so hilarious, I die every time I watch one of her videos. Besides comic relief, she is a very talented hair and makeup artist who makes awesome videos. What I like about her channel is she tries a lot of different trends and is genuinely in love with makeup. She also has 7 million followers who are obsessed with her, too.
While Kim K may be taking the beauty world by storm, let's take a moment to appreciate these beauty vloggers who have been here for us the whole time.
How else would we have learned to contour in the first place?