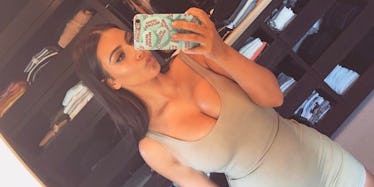 Kim K Celebrated The Launch Of KKW Beauty With North and Kanye In Sweet Pics
Instagram
Hang on to your cheekbones, contoured beauties. Kim Kardashian is releasing her makeup line, KKW Beauty, and her selfie-selebration (really trying to make that a thing) looked like a totally sweet way to party.
Posting a series of videos and pictures from her launch event, Kim documented the whole shindig on her social media, including cute cameos from mom Kris Jenner, hubby Yeezy and glam daughter North.
The event featured a floral selfie beauty room, complete with wall-to-wall mirrors and hanging roses.
Kim explains in one of her videos,
We're in this beauty room. Look at how cool! I'm in the floral selfie room with my mama... How good does this room smell though?
There was also, like, IDK, glass museum showcase boxes protecting her products like they're the royal jewels??? But I'm not judging, YOU'RE judging!
The products themselves are four contour palettes in the shades light, medium, dark, and deep dark and come in at a cool $48 dollars a kit.
Kim as been teasing and promoting the launch on her social media for what feels like forever, sporting some seriously glowing photos of herself and intense product close ups.
Kim has explained in a video that the decision to start with contour came for her love of bronze and wanting a product that comes with easy application.
The reason I wanted to do crème contour first over powder is because I've been wearing less makeup lately, and so when I only have five minutes and I'm running out the door, I love to look bronze-y and tan, and I would just take contour sticks and just try so many different kinds. And I needed a really good, blend-able one, but they gave you color. I use it, literally, I'll take one side of the stick, the lighter side, and I'll do shadow, under eye, my full nose, full lip liner, and then I'll use the darker one all around my face to really frame my face. And it became my go-to.
Congratulations, Kim! You and your family look totally contoured and oh-so-sweet.