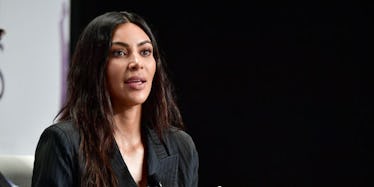 Here's How Much Kim K's Contour Kits Cost, So Get Ready To Empty Your Wallet
Dia Dipasupil/Getty Images
Kim Kardashian's KKW Beauty line officially launches its first products tomorrow: four crème contour kits in the shades light, medium, dark, and deep dark.
The kits come with a dual-sided contour and highlight pens and a dual-sided blending brush all wrapped up in nude-ish pink packaging (that fans aren't really into at all).
The contour pens have two shades of contour, and the highlight pens have a matte highlight and a shimmer highlight.
But if you thought there was a possibility these contour kits wouldn't demolish your wallet like Kylie's lip kits do... sorry. These babies are comin' in hot at $48 per package and are exclusively available at KKWBeauty.com.
When you think about it, though, you're technically getting five different products when you buy just one kit, so the price might be worth it, depending on the quality. (Please, Kim, don't let these suck.)
To contrast, Kylie Jenner's matte lip kits are $29 a pop. But in all fairness, the lip kits come with less products in each package, so it makes sense that they'd be a little cheaper than these contour kits.
Also, it's not quite fair to compare Kylie Cosmetics and KKW Beauty, seeing as their products — as of right now — are in no way similar, and Kardashian said she and Jenner are working together to make sure their products don't overlap.
The beauty of these contour kits is they're probably going to make contouring really, really easy. The makeup tutorials Kardashian has been posting with makeup artist Mario Dedivanovic show just how simple it is to contour with these kits.
You literally just have to draw lines on your face and then blur the lines with the blending brushes the kit provides. I seriously don't know how contouring can be made simpler.
I know this is all VERY OFF-BRAND FOR ME since I'm new to the whole "I like Kim Kardashian" thing, but damn it, I love makeup, and even when I wasn't a fan of Kim, I still loved her makeup looks. So I silently and privately rejoiced when I found out she was coming out with her own makeup line, and then I kind of freaked out when she announced the first products would be contour kits.
DAMN IT, KIM. YOU AND YOUR PERFECTLY CONTOURED BONE STRUCTURE HAVE CONVERTED ME. CURSE YOUR CHEEKBONES!!!!!!