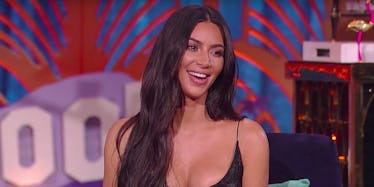 Here's How To Use Kim Kardashian's KKW Beauty Line If You Don't Understand Makeup
YouTube
The release date for Kim Kardashian's first-ever makeup line, KKW Beauty, is quickly approaching, people.
The first products from the line are going to be a crème contour kit available in four different shades, and they'll be on sale starting Wednesday, June 21!
Kardashian has been posting across all of her social media platforms promoting the line and its products, providing details on what each contour kit contains and the shades they come in. They're priced at $48 and will only be available at KKWBeauty.com.
The contour kits come with a dual-sided contour pen, a dual-sided highlight pen, and a dual-sided blending brush all wrapped up in nude-ish pink packaging. The contour pens have two shades of contour, and the highlight pens have a matte highlight and a shimmer highlight.
Kim took to Snapchat and Instagram this weekend to demo all of the colors: light, medium, dark, and deep dark.
GIMME DAT MATTE HIGHLIGHT AND I'LL BE SET FOR LIFE.
Now, for many of us, makeup doesn't come that easily. It literally took me years to understand that black eyeliner should not be applied to the majority of your eyelid, so yes, middle school was rough.
But thankfully, Kardashian knows what her fans need, and that's makeup tutorials.
So she posted the below behind-the-scenes video to Twitter and Instagram detailing how to use her new contour kits.
In the video, she says,
The reason I wanted to do crème contour first over powder is because I've been wearing less makeup lately, and so when I only have five minutes and I'm running out the door, I love to look bronze-y and tan, and I would just take contour sticks and just try so many different kinds. And I needed a really good, blend-able one, but they gave you color. I use it, literally, I'll take one side of the stick, the lighter side, and I'll do shadow, under eye, my full nose, full lip liner, and then I'll use the darker one all around my face to really frame my face. And it became my go-to.
In the slightly longer Instagram video, her makeup artist says,
It just looks more natural, it gives a nice glow to the skin, the texture is very sheer, and you can kind of see through the skin which is what you want. You don't want it to look like a mask. So the product allows it so that you can actually see through your skin, but gives you that nice contour, that nice definition, and warms up the skin as well.
You got that, fam?
Basically, what Kardashian and her makeup artist are saying is these crème contour and highlight kits, along with the blending brushes, are capable of doing most of the work in your makeup routine.
You can contour your cheeks and nose, line your lips, apply some shadow to your eyes, and apply highlight all with one kit.
This basically means that literally anyone can contour now without being intimidated by it, so thank you, Kim. You're doing God's work.