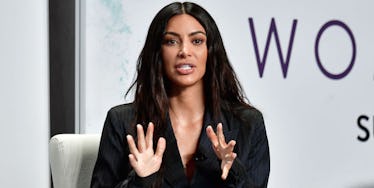 Fans Think Kim K Threw Shade At A YouTube Blogger Over Bad Review Of KKW Beauty
Dia Dipasupil/Getty Images
Kim Kardashian's release of KKW Beauty might not have broken the internet, but it came fairly close.
While fans wait for a restock of the sold-out contour kits, they've had some time on their hands to notice the little things -- like the fact Kim K may have subtly, kind of, sort of threw shade at a YouTube blogger who didn't give her new beauty line a rave review.
Don't worry, though, Kim also has some time on her hands and wasted no time clearing up those rumors.
Let's start at the beginning...
Last week, the 36-year-old reality star happily tweeted along as fans bought all her product in just a matter of minutes, and then celebrated later that day at a big launch party that included a bunch of high-profile beauty bloggers.
She posted several photos to her Instagram account, shouting out the beauty bloggers and thanking them profusely for coming. (Are there people who would turn down an invite to the Kardashian-West home?)
The internet was quick to notice, though, that one such beauty blogger was not tagged in her photo with the selfie queen.
Jumping to conclusions at the lightning speed that only Twitter can, fans assumed Jackie Aina, who is famous for her reviews of beauty products on YouTube (she has more than a million followers), was intentionally untagged because of her honest feedback.
Kim K quickly got wind of this and went on a mini Twitter rant herself to clear the air.
First, she explained she would never post someone's photo and not tag them (which, makes sense... she could have deleted the photo completely if she wanted to throw actual shade).
Then, she blamed technical difficulties on the lack of tag.
She reiterated that she had graciously invited Aina into her home. They're BFFs, guys!
She also wanted people to know she can take criticism and will use it to improve the kits.
Finally -- just to drive her point home -- she called on Instagram to update its platform.
You can watch the entire video to see exactly what Aina said about KKW Beauty, but none of it is too harsh. She actually complimented the reality star several times and pointed out a ton of aspects of the product she really liked ("I'm quite impressed with the shade range").
So while she said she thought the kits were "a little pricy" — among a few other complaints — Aina also said she was looking forward to seeing what Kim comes out with next.
This story isn't over yet, though!
Once Aina got wind of the rumors and the response, she also started tweeting to thank Kim for speaking out and clearing it all up.
So the drama has subsided... for now.