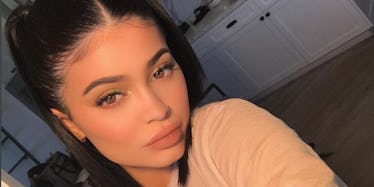 Here's How Much Kylie Jenner's Birthday Collection Costs, So Get Ready To Go Broke
Instagram
When I turned 20 years old, five of my best friends threw a "hat party" for me, and we all wore weird hats and drank Bud Light Limes that our friend with a beard was able to buy at a local gas station. Kylie Jenner is doing basically the same thing, just substitute "hat party" for "launching her new makeup collection" and Bud Light Lime's for unicorn tears, probably. Of course, fans are wondering: How much does Kylie Jenner's birthday collection cost?
Answer: More than a six pack of Bud Light Lime.
This kit is called "#KylieTurns20" and is a totally different vibe than her previous products. For the birthday collection, Jenner went completely girly, and celebrated pinks, purples, and glitter.
Inside the kit, buyers will find: four brushes, eight mini lippies (four in velvet, four in matte), two Ultra Glow highlighters, one lip kit, two glosses, an impressive eyeshadow palette, a makeup bag, and the special gift of a bedazzled liquid lipstick. In total, you can get a bundle package for a very chill $175. Or, you can buy itemized pieces at the rates below.
Lip Kit: $30 Matte Mini Kit: $36 Velvet Mini Kit: $36 Birthday book: $54 Each lip gloss: $15 Each Ultra Glow: $14 Limited edition birthday vial: $60 Makeup bag: $36 Makeup brush set: $30
The bundle includes: Twenty Lip Kit Matte Mini Kit Queen Ultra Glow Birthday book Cupcake Lip Gloss Cherry Pie Lip Gloss Makeup bag
TBH, it all really is a birthday girl's dream come true, and more fun to look at than blowing out candles in slow motion.
I know, I know. You're wondering, "But Jamie, how can I buy this?" Well, first of all, I don't know if you'll be able to. Jenner's makeup launches are known for selling out faster than you can say Kylie-Kendall-Khloé-Kim-Kourtney-maybe-Rob-too. Still, you can try.
The launch is happening on August 1, promptly at 3 p.m. PT, and you can order online at the Kylie Cosmetics site.
Happy birthday, Kylie! We're, like, totally obsessed.