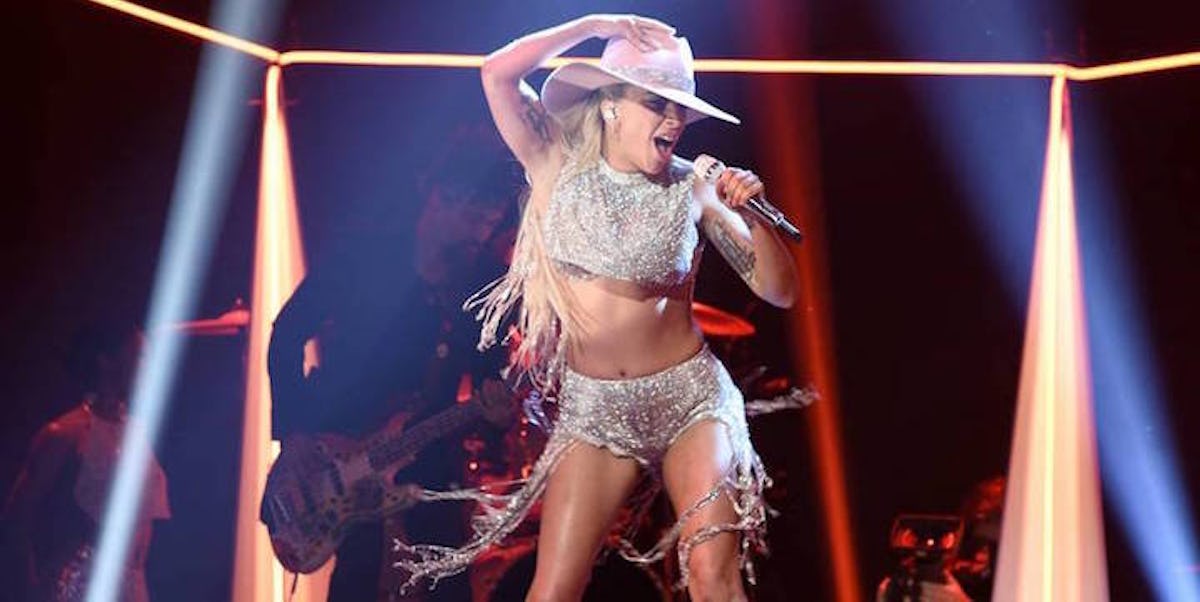 How Lady Gaga Got Her Body In Shape To Rock All Those Tiny 'Joanne' Outfits
NBC
Lady Gaga absolutely wasn't born this way.
The pop star, who's best known for her elaborate transformations into new characters every time she releases an album, works hard for the legs she struts around on.
During shows, she bares a toned torso in revealing metallic bodysuits and denim cutoffs.
Even as Gaga takes on a totally new persona for the release of her quasi-country album Joanne, it's clear the pink cowboy hats and bedazzled hot pants haven't changed her much.
She's still the woman who wore those latex getups during her Fame Monster phase.
Gaga is commonly known as one of the hardest working stars in the business we call Hollywood.
But, it's not just her brain that's getting exercise. The star regularly works out with Harley Pasternak, trainer to the stars, to stave off the pounds she gains in her off weeks.
To become "Joanne," Gaga had to prepare herself for months of touring, flashing paparazzi cameras and wearing crop tops that show plenty of underboob. Pasternak famously works Gaga out five times a week, for 25 minutes every session.
Short and sweet, maybe, but it's highly effective. Pasternak posts photos of his client like a proud dad.
Although the star's dance rehearsals take care of the majority of her calorie-burning, that still leaves strength to deal with.
Pasternak focuses on the core muscles, bringing in moves like bicycle crunches to work the full range of ab muscles. He trains in high-intensity intervals with short bursts of cardio, followed by strength exercises in circuits.
Another facet of building Gaga's body is, of course, the food she's consuming. The pop star holds a special place in my heart because she's a self-admitted New York Italian girl, meaning pasta and pizza are basically her bread and butter.
Except, er, she's not allowed to have any of those things. Not even if her dad's serving them at his Italian restaurant.
Preparing to release an album means sticking to a strict diet, according to Gaga. In 2012, she got flak for tweeting, "Just killed back to back spin classes. Eating a salad dreaming of a cheeseburger #PopSingersDontEat."
Although fans worried Gaga was actually glorifying eating disorders, the singer went on to clarify she'd accidentally gained 25 pounds in her time away from the stage.
Looking this fit comes with a price tag, one printed with the hamburger emoji.
And as for booze? Wine doesn't exactly fit into a pop star's diet.
Judging by the star's Instagram posts, she's saving her drinks for special occasions. But, that doesn't mean she can't appreciate a good party.
Now, go get your own glitter cowgirl look on.